Slip and falls can cause serious injury to a person. This is why a competent attorney is crucial whenever somebody suffers an injury from a slip and fall.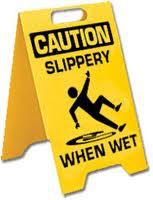 In one recent case, a shopper at Lowe's filed a lawsuit against the company after the shopper was seriously injured in a slip and fall. In this case, the shopper lost her sense of taste and smell after injuring her head.
Lowes, like most major employers, fought this case tooth-and-nail. However, the jury of the Hendrickson v. Lowe's (case number A-13-687418-C) case ultimately awarded the plaintiff with $16.4 million. The award came as jurors concluded the company's negligence caused Kelly Hendrickson to slip and fall in water in the garden department of its South Fort Apache Street store as she was looking at palm trees.
The plaintiff in this was awarded $1.9 million in medical expenses and $14.5 million for pain and suffering. This amount was awarded even after the jury found the plaintiff 20% responsible for the fall.
In another similar case, Lenora and Arthur Horton filed a lawsuit against Family Dollar stores after a slip and fall. The suit says Family Dollar and its store manager are liable for her injuries because they failed to make the store safe for customers. As a result of her injuries, Horton says she lost wages, incurred medical expenses and suffered emotional distress.
The cases above illustrates the complexity of a slip and fall case. This is why it is important to retain an experienced attorney to handle your slip and fall lawsuit. Our firm handles slip and fall cases throughout the United States. Please don't hesitate to contact us.