As a Medical Device Product Liability attorney and board certified medical doctor, I am providing this important update regarding Cochlear Implants. Cochlear Ltd., the world's biggest maker of hearing implants, an Australian company, recalled its latest range of devices after a recent, unexplained increase in failures.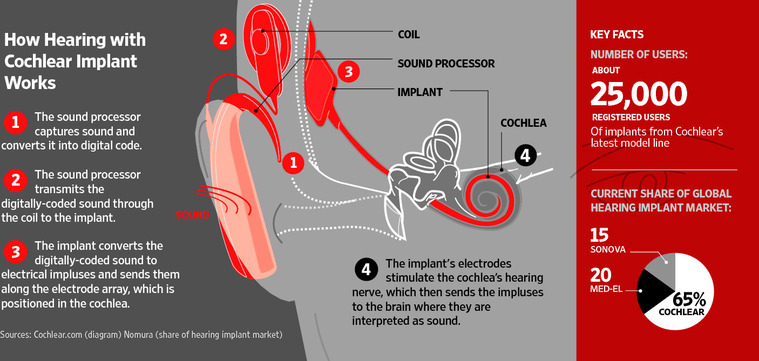 The voluntary recall of the Nucleus CI500 implants, which Cochlear says are the slimmest titanium hearing implants available, will affect many patients.
The company said it identified an increase in the number of Nucleus CI512 implants failing in recent weeks. Chief Executive Chris Roberts said the company has stopped manufacturing the Nucleus CI500 line, which made up 70% of the company's sales of implant units for fiscal 2011. Cochlear has about 65% of the global hearing-implant market.
People fitted with CI500 units but who have not experienced any problems are being advised to continue using the devices. The voluntary recall of the Nucleus CI500 range includes the CI512 model as well as the CI513, CI551 double array implant and ABI 541 auditory brainstem implant.
It does not affect its earlier Nucleus Freedom range or its Nucleus 5 external hearing devices. Production of the CI500 devices has stopped and patients needing bionic ear implants are being offered the Nucleus Freedom model, which has been on the market for seven years.
Roberts said Cochlear was halting manufacture until the cause of the faults was uncovered. According to Roberts, he was unable to say how long it would take before the devices were back on sale but said if any changes had to be made, the company would need to get regulatory approval from the countries where the units are sold.
Cochlear sold more than 17,000 of its Nucleus 5 range of devices in the 2010/11 financial year, representing 70 percent of its total bionic ear sales in 100 different countries. The Nucleus 5 range includes the thinnest hearing implants on the market at just 3.9 millimeters (0.15 of an inch) thick. Cochlear had promoted them as "a new design that is built to last a lifetime."
The National Institutes of Health in the U.S. puts the total cost including device, surgery and follow-up care of an implant at US$60,000. Mr. Roberts said there are about 25,000 registered users of the CI500 range and the company isn't recalling those products that have already been implanted. Cochlear said less than 1% of CI512 implants have failed since they were launched in 2009.
If failure occurs, the implant safely shuts down without injuring the recipient, the company said in a statement, adding that if the device does fail, the patient could be re-implanted with an earlier model from Cochlear's Nucleus Freedom implant range.
Cochlear's Nucleus CI500 is designed to correct hearing loss resulting from damage to the cochlea, a pea-sized structure deep within the ear with hair cells that communicate sound signals to the brain. The implanted device coverts sounds to electrical energy, which it transmits directly to hearing nerves.
Cochlear implants don't restore normal hearing but can give people who are deaf or severely hard of hearing a representation of sounds and help them understand speech, according to the National Institute on Deafness and other Communicative Disorders' website. About 219,000 children and adults world-wide had received such implants as of December, according to the institute.
Industry Problems with Cochlear Implants
Cochlear Americas, a Colorado-based cochlear implant manufacturer, agreed to pay $880,000 to resolve allegations that it paid illegal remuneration to health care providers to induce purchases of cochlear implant systems, according to the Justice Department. Cochlear Americas is a subsidiary of an Australian company, Cochlear Limited.
The settlement resolved a lawsuit brought by a whistleblower, Brenda March, in 2004. The lawsuit, filed in the District of Colorado, alleged that Cochlear Americas violated the Anti-kickback Act and the False Claims Act by paying various forms of illegal remuneration to physicians who prescribed the use of the Cochlear-manufactured devices for Medicare and Medicaid patients.
Advanced Bionics (California) has had several recalls and is awaiting approval from the Food and Drug Administration to resume sales in the U.S. after its latest recall due to a leakage that could lead to neural tissue damage. Advanced Bionics was fined the maximum fee of $1.1 million by the Food and Drug Administration for switching their supplier without notifying the FDA nor having the FDA approval. The cochlear implant was recalled "because of excessive moisture that could leak into the devices and cause device failure and possible surgery." The CEO, Jeffery Greiner, was also fined $75,000.
Advanced Bionics also produced a cochlear implant with a positioner that had an increased number of people coming down with meningitis post surgery of which some people died from. Other Cochlear Implant manufacturers also have cases of meningitis post surgery.