In December of 2011, The U.S. Food and Drug Administration (FDA) issued a safety announcement, that it was "evaluating post-marketing reports of serious bleeding events in patients taking Pradaxa (dabigatran etexilate mesylate).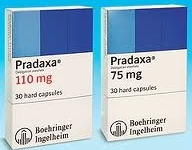 Pradaxa is a blood thinning (anticoagulant) medication used to reduce the risk of stroke in patients with non-valvular atrial fibrillation (AF), the most common type of heart rhythm abnormality."
Pradaxa Side Effects
According to an FDA podcast released 12/7/2011 the FDA is studying reports that there have allegedly been hundreds of reports of severe side effects linked to Pradaxa usage, especially in the elderly.
The side effects of Pradaxa include severe bleeding that may result in a heart attack, stroke, death, brain hemorrhage, gastrointestinal bleeding and kidney bleeding.
The FDA has not made any determinations about the future of this product other than issuing other cautionary statements to physicians.
New Anti Clotting Drugs on the Horizon
A new drug shown to be better than warfarin at preventing strokes in patients with atrial fibrillation may reach the U.S. market more quickly after health regulators gave it an expedited review.
Eliquis, from Bristol-Myers Squibb Co and Pfizer Inc, would be the third new U.S. treatment for these patients after Xarelto, from Bayer and Johnson & Johnson, was approved, and Pradaxa from Boehringer Ingelheim.
The U.S. Food and Drug Administration typically takes 10 months or longer to review new drug applications but will give Eliquis a quicker review after clinical trials showed the drug was safer and more effective than decades-old warfarin.
According to Bristol and Pfizer, the FDA is expected to give a decision on approval by June. That would close the gap in the three-way race, as the new treatments compete in an estimated $10 billion market.
Stroke Risk with Atrial Fibrillation
Atrial fibrillation affects more than 2 million Americans. The cardiac arrthymia condition causes blood to pool in the heart and form blood clots, which then travel to the brain, raising the risk of stroke.
There is little safety data with the new drugs on big groups of patients, including the elderly, people with impaired kidney function and patients with significant valvular heart disease.