The Biomet M2a-Magnum hip implant is the latest metal-on-metal hip device to come under scrutiny following reports of a wide range of adverse side effects associated with it.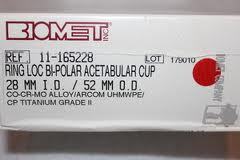 What is Biomet M2A-Magnum Hip?
The Biomet M2A-Magnum Hip is a metal-on-metal hip replacement system that has been implanted in patients throughout the United States.
According to experts, the Biomet M2A Magnum metal on metal hip implant may be subject to early failure within a few years of surgery.
Many patients who were implanted with the Biomet Magnum hip implant have also reported loosening, dislocation, wear or failure of the implant due to the design of the device.
According to Biomet M2A Magnum hip lawsuits, these problems were known to the device manufacturer, yet they continued to market the implant as safe and effective.
Metal on Metal Hip Metallosis
Patients with a defective Biomet Magnum metal on metal hip implant may face metallosis, a medical condition where metal particles build up in the tissue around the implanted joint.
While typical hip implants consist of components made of metal and plastic, the Biomet Magnum has three all-metal components, a metal femoral head, metal taper insert and metal acetabulum cup.
As the metal parts grind against each other, microscopic metal debris may be released into the hip joint, which causes localized inflammation, loosening and other systemic problems associated with metal hip poisoning.
Metal-on-Metal Hip Replacements Biomet Magnum
In recent years, similar problems have affected many patients with DePuy ASR, DePuy Pinnacle, Wright Profemur and other "metal-on-metal" hip replacement systems.
The Biomet Magnum device includes chromium and cobalt in its composition, and both the femoral head and the acetabular cup contain these metals.
The American Academy of Orthopaedic Surgeons expressed alarm in October 2010 regarding potential problems with metal-on-metal hip replacements.
Its warning, directed to consumers and medical providers, stated that pain continuing for months following implantation might be a symptom of metallosis (metal poisoning).
Biomet Magnum Hip Device Recall?
In May 2011, the Food and Drug Administration (FDA) ordered twenty-one manufacturers of hip implant devices to collect and report data on metals levels in the blood of implant patients as well as the adverse health effects that may be caused by them.
About one-third of all hip replacement surgeries in the United States are performed using metal-on-metal devices, and all are now implicated in the examination of them.