A Tennessee man has filed a lawsuit against the maker of Pradaxa, claiming that the blood thinner caused him to suffer a cerebral hemorrhage.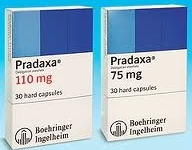 According to the complaint, Boehringer Ingelheim Pharmaceuticals, Inc. concealed knowledge that Pradaxa can cause serious, life-threatening bleeds, and did not warn that Pradaxa bleeding side effects may be irreversible.
The plaintiff alleges that he was prescribed Pradaxa, and after 2 months of use, he suffered a cerebral hemorrhage, as well as other severe personal injuries which are permanent in nature.
Pradaxa FDA Approval
Pradaxa was approved by the U.S. Food & Drug Administration (FDA) in October 2010 and is one of a number of new blood thinners that have been touted as a superior alternative to warfarin.
Both warfarin and Pradaxa pose a risk of serious bleeding. But warfarin bleeding can be stopped with the administration of vitamin K or a drug called recombinant factor VIIa. There is currently no practical antidote for Pradaxa bleeding.Pradaxa bleeds cannot be stopped since there is no known reversal antidote for this drug.
Pradaxa 260 Deaths
Last year, Boehringer Ingelheim, acknowledged that since March 2008, it had received 260 reports of bleeding-related deaths in patients taking Pradaxa.
The Institute for Safe Medicine Practices (ISMP) reported that Pradaxa was associated with a total 856 reports of serious, disabling or fatal injury, including 117 bleeding deaths, in the second quarter of 2011.
FDA Investigates Pradaxa
The FDA launched a review of Pradaxa in December over reports of bleeding-related side effects, while regulators in Europe and Japan have also directed Boehringer Ingelheim to strengthen warnings for the Pradaxa.
Pradaxa the Hits keep coming