As a Dallas Denture Cream Side Effect Attorney, I am providing this Poligrip Zinc side effect litigation update.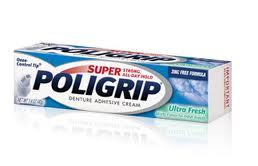 GlaxoSmithKline may have paid out more than $120 million in Poligrip denture cream settlements to resolve claims brought by consumers who suffered permanent nerve damage due to zinc in the adhesive products. According to sources, the manufacturer has settled more than 100 denture cream lawsuits at an average cost of just over $1 million per case.
Glaxo agreed to remove zinc from its line of denture-cream products after researchers linked some neurological problems, including nerve damage, to use of zinc-laden denture adhesives. The company's Super Poligrip Original, Ultra Fresh and Extra Care products all contained zinc, which improves adhesive power. Glaxo and Procter & Gamble Co. (PG), the Cincinnati-based maker of the competing Fixodent denture cream, had lawsuits filed against them consolidated before a federal judge in Florida in 2005.
Product liability lawyers allege that the drugmakers knew for years that their products contained harmful levels of zinc and failed to warn customers. Zinc poisoning can deplete the body of copper, which can lead to nerve damage, resulting in weakness in the arms and legs, balance problems and memory loss.
A flood of law suits followed a 2008 University of Texas Southwestern Medical Center in Dallas medical study of patients suffering from neurological problems. The study linked the cause to denture-cream use. According to the complaints, high amounts of zinc in the denture adhesive can enter the body through use of Super Poligrip, leading to permanent neurological problems like neuropathy, numbness, tingling, pain, weakness, loss of sensation, loss of balance, paralysis and difficulty breathing.
The first Fixodent nerve damage trial is scheduled to begin on June 20. In that case, lawyers for Florida resident Marianne Chapman allege Procter & Gamble defectively designed Fixodent by including zinc in its formulation. The consolidated case is In Re Denture Cream Products Liability Litigation, 09-02051, U.S. District Court, Southern District of Florida (Miami.)
There have been no reports of Fixodent denture cream settlements. Proctor and Gamble argues that its products contained less zinc than those of Glaxo and that it does not believe Fixodent can cause neurological damage.
All federal lawsuits over zinc poisoning from denture cream have been centralized in the U.S. District Court for the Southern District of Florida for pretrial litigation. Individual complaints filed by dozens of people throughout the United States have been consolidated to avoid duplicative discovery, inconsistent pretrial rulings from different judges and to serve the convenience of the court, the parties and the witnesses.

Information and commentary provided by Dallas Fort Worth Personal Injury Attorney Dr Shezad Malik. The Dr Shezad Malik Law Firm can be contacted in Dallas toll free at 214-390-3189. If you or a loved one has been injured with NERVE DAMAGE FROM DENTAL CREAM, please fill out our contact card for a free consultation.
AREAS OF PRACTICE:Our Dallas Fort Worth Personal Injury and Wrongful Death Attorneys and Lawyers have extensive experience in the areas of: car and truck accident, sexual abuse, tractor trailer and commercial vehicle litigation, medical malpractice, wrongful death, serious auto accidents and car wrecks, bus accidents, dog bites, product liability, brain/head injuries, burn and electrical injuries, spinal cord injuries, premises liability/slip and falls, negligent security, and many other types of personal injury cases.
Call us toll-free at 214-390-3189  or send us an e-mail to schedule a free initial consultation about a car accident, slip and fall premises liability claim or any other personal injury or wrongful death case. We handle all cases on a contingency basis, which means you pay nothing unless we accomplish our mission of getting justice for you.