A Vermont man who suffered deadly brain bleed has filed a wrongful death lawsuit. The family alleges that the death was caused by side effects of Xarelto, a new generation anticoagulant. Xarelto, has recently come under fire from its irreversible bleeding side effects and is the subject of many similar lawsuits.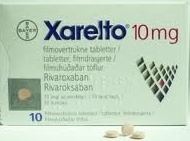 Thomas C. Dunkley's daughter Ruth McGowen, filed a claim against Bayer Healthcare and Johnson & Johnson's Janssen Pharmaceuticals subsidiary on July 25, in the U.S. District Court for the District of Vermont.
According to the Xarelto allegations, Dunkley was prescribed the blood thinner anticoagulant in July 2012, for treatment of atrial fibrillation to reduce the risk of a embolic stroke.