According to experts, the new blood thinner Pradaxa has been linked to an increased risk of serious life-threatening bleeding. Now many experts are questioning its safety.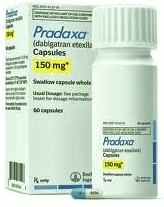 PRADAXA LAWSUIT STATUS
Users of Pradaxa who suffered severe internal bleeding, hemorrhages or other problems may be eligible to pursue a Pradaxa lawsuit. Our lawyers are reviewing potential claims for individuals throughout the United States.
MANUFACTURER
Boehringer Ingelheim

PRADAXA OVERVIEW
Pradaxa (dabigatran) was released in October 2010 as an anticoagulant, but received more consumer complaints to the FDA's MedWatch adverse event reporting system in its first three months on the market than 98.7% of the other drugs.
The drug is meant to be a replacement for warfarin and is supposedly easier to use because it requires less monitoring. Warfarin can be quickly counteracted by doses of Vitamin K when a bleeding problem occurs. There is no such remedy available when Pradaxa side effects cause internal bleeding.
PRADAXA INTERNAL BLEEDING SIDE EFFECTS
In the first year Pradaxa was on the market, there were more than 360 deaths attributed to internal bleeding from Pradaxa and some experts have raised questions as to whether the drug's pre-approval clinical trials were valid.
Complaints of Pradaxa problems have included hemorrhages, especially among the elderly and those with impaired kidney function. Other reports suggest that the drug has proven ineffective in some cases, leading to deep vein thrombosis and pulmonary embolism due to blood clots Pradaxa failed to treat.
FDA INVESTIGATES
In December 2011, the FDA announced it was launching a safety review of Pradaxa, after only 14 months on the market. The agency will evaluate post-marketing reports of serious bleeding events. The investigation came about a month after the manufacturer announced it was investigating Pradaxa death reports.
LAWSUITS
As a result of the drug makers' possible failure to adequately warn about the risks associated with their medication, Pradaxa lawyers are evaluating whether users may be entitled to compensation through a product lawsuit.