European drug regulators are demanding new kidney damage warnings for Tekturna and other drugs containing the active ingredient aliskiren.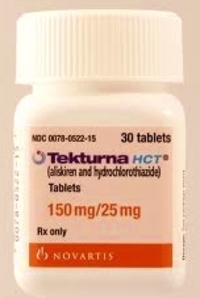 The new warnings and contraindications were announced by the European Medicines Agency (EMA) last week.
Tekturna (aliskiren) is manufactured by Novartis and was first approved in the United States in 2007 for the treatment of hypertension.
The EMA recommended that combinations of Tekturna with angiotensin converting enzyme (ACE) inhibitors or angiotensin receptor blockers (ARBs) be contraindicated in patients with diabetes or moderate to severe renal (kidney) impairment.
European officials say that the drug can be more risky to diabetic patients and those with kidney problems being given ACE inhibitors or ARBs. Furthermore the EMA is recommending that doctors with diabetic or kidney patients use another drug for high blood pressure.
The push comes after Novartis cancelled a Tekturna clinical trial known as ALTITUDE due to a shocking number of strokes and kidney problems among test subjects. The study was to justify whether Tekturna could help diabetes patients with kidney problems.
The research indicated that Tekturna side effects may increase the risk of not only strokes and kidney damage, but also may cause hypotension (low blood pressure) and hyperkalemia (high potassium).
The ALTITUDE trial involved the use of Tekturna along with ACE inhibitors or ARBs. Novartis says it will cease promoting the use of Tekturna in combination with those drugs in any patients.
Read more here and visit my website for further information.