According to the Institute for Safe Medication Practices (ISMP)'s Quarter Watch report, the number of pancreatic cancer cases are increasing involving lethal side effects of Byetta, Januvia, Victoza and other diabetes drugs known as incretin mimetics.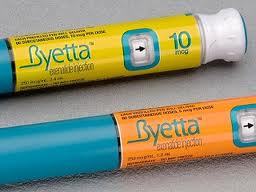 ISMP evaluates adverse event reports submitted to the FDA, and the report, Perspectives on GLP-1 Agents For Diabetes, evaluated adverse event reports for exenatide (Byetta and Bydureon), liraglutide (Victoza), sitagliptin (Januvia and Janumet), saxagliptin (Onglyza) and linagliptin (Tradjenta).
The yearly adverse event report data ending June 2012, demonstrated that there were at least 1,723 serious adverse events submitted through the FDA's MedWatch program. There were at least 105 pancreatic cancer cases and 831 reports of pancreatitis. Pancreatitis or inflammation of the pancreas gland is an important risk factor for the development of pancreas cancer.
There were 71 Byetta pancreatic cancer cases, 18 with Januvia and Janumet and 14 Victoza pancreatic cancer cases.
Byetta and Victoza Thyroid Cancer Risk
Byetta and Victoza are injected, and Januvia, Janumet, Onglyza and Tradjenta are taken orally. ISMP documented 14 cases of thyroid cancer with Byetta and 17 with Victoza, 1 Januvia case and none for the other oral medications.
According to experts, the number of adverse event reports submitted to the FDA only account for 1% to 10% of all problems associated with prescription medications, since the majority of all health side effects are never reported by doctors or patients.
According to ISMP, "We recommend updating the prescribing information to include stronger alerts based on adverse event data and new studies now available," concluded the report. "Also, new studies of the long-term effects of GLP-1 agents (incretin mimetics) on human and primate pancreatic and thyroid tissues should be a major priority."
What are Incretin Mimetics Januvia, Byetta, Victoza?
Incretin mimetics are a new class of drugs used to treat type 2 diabetes. Byetta (exenatide) was approved by the FDA in 2005, and is manufactured by Amylin Pharmaceuticals as a twice daily injection. Januvia (sitagliptin) was approved by the FDA in 2006 and and is manufactured by Merck as an oral medication, and as a combination pill containing Januvia and another diabetic medication metformin, under the brand name Janumet. Victoza (liraglutide) was approved by the FDA in 2010, and manufactured by Novo Nordisk as a daily injection. Onglyza (saxagliptin) was approved by the FDA in 2009 and is manufactured by Bristol-Myers Squibb and AstraZeneca. Tradjenta (linagliptin) is manufactured by Eli Lilly and Boehringer Ingelheim and approved for sale in 2011.
FDA Launches Incretin Mimetics Investigation
Recently, the FDA began an investigation into the potential pancreatic cancer risk associated with incretin mimetics. The investigation was prompted after a recent medical study identified pre-cancerous cellular changes in pancreatic tissue from users of the drugs.
Federal MDL Motion Filed
Recently, a motion was filed with the U.S. Judicial Panel on Multidistrict Litigation requesting that all Byetta, Januvia, Janumet and Victoza pancreatic cancer lawsuits to be consolidated in the US District Court for the Southern District of California, based in San Diego, for coordinated handling during pretrial proceedings.