As a Dallas DePuy ASR Metal Hip attorney and Texas medical doctor I have been reporting from the DePuy ASR trial that is currently underway in Los Angeles, California.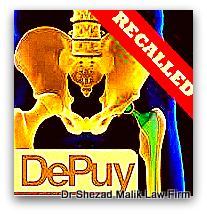 Over the past week of trial, the jury has heard from plaintiff's engineering and metallurgic experts. and the videotaped testimony of Andrew Ekdahl, the president of Johnson & Johnson (JNJ)'s DePuy unit. Ekdahl, told jurors the company recalled 93,000 all-metal hip implants because they "did not meet the clinical needs for the product," not because they were unsafe.
First of Over 10,000 DePuy Lawsuits in Trial
Ekdahl testified in the first of 10,000 lawsuits to go to trial over allegations that J&J defectively designed the implants and failed to warn of the risks before the recall of the ASR devices in August 2010. The plaintiff is Loren Kransky, aged 65, who is suing DePuy over his failed hip, and his lawyer questioned Ekdahl about whether the company withdrew the hips because they were unsafe.
Acceptable DePuy Failure Rate?
The plaintiff's attorney, Michael Kelly, told jurors that an internal DePuy analysis in September 2011 showed 37 percent of ASR hips failed within 4.5 years, and that Australian national registry data showed in 2012 that 44 percent failed after seven years.
About 32,000 patients had ASR devices implanted in the U.S., said Ekdahl, who said that "somewhere in the neighborhood of 15 to 20 percent" of those hips had failed.
Lawsuit Allegations
Thousands of lawsuits allege that the ASR device left them in pain or immobilized by joint dislocations, susceptible to serious infections, local hip inflammation and hip muscle loss and bone fractures. Plaintiffs also claim the metal devices released chromium and cobalt debris into the bloodstream, elevating the metals to dangerous levels, a medical condition known as metallosis.
A company engineer, Graham Isaac, e-mailed Ekdahl on April 30, 2008, to say the ASR is "susceptible to extreme metal ion levels," which a competitor product didn't face. Isaac wrote "We need to discuss that at the earliest possible opportunity as I believe it means that we need to start any ASR upgrade sooner than our previous plans had suggested."
'Project Alpha'
Kelly showed documents related to DePuy's internal discussions in 2008 to redesign the ASR cup through "Project Alpha." That project was never completed. At a September 2009 meeting of the company's U.S. board overseeing joint devices, officials said the revision rate of the ASR XL device was two or three times that of another DePuy implant, the Pinnacle. It said that the impending publication of Australian registry data would be "very damaging to the ASR."
DePuy ended Australian sales months before they halted in the U.S.
Other Metal on Metal Hip Lawsuits
The federal courts have consolidated other product liability lawsuits involving failure problems with metal-on-metal implants, with all Biomet M2A Magnum hip lawsuits consolidated in the Northern District of Indiana, and all Wright Medical Conserve hip lawsuits consolidated in the Northern District of Georgia.
All of the lawsuits involve allegations that metal-on-metal hip replacements are dangerous, defective, with a highten risk of early failure due to metal debris that is released into the body as the parts grind against each other.
The Kransky case is Kransky v. DePuy, BC456086, California Superior Court, Los Angeles County (Los Angeles). Read more here.
Trial: J&J DePuy ASR Metal Hip Design Failure Shezad Malik MD JD | January 28, 2013
Trial: Johnson & Johnson & DePuy Alleged Negligent in ASR Hip Implant's Risks Shezad Malik MD JD | January 28, 2013
DePuy ASR Design Flaw Exposed in Metal Hip Implant Trial Shezad Malik MD JD | January 26, 2013