As a Crestor Side Effect attorney and cardiologist, I am writing this blog article to highlight the side effects of cardiac for patients who are taking statins, particularly Crestor to manage their high cholesterol levels.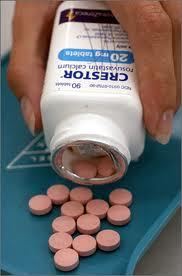 According to new medical studies, the use of statins, especially Crestor, can be a major cause of cardiomyopathy, a heart problem caused by heart muscle weakening. Statins are prescribed to lower cholesterol levels. The drugs do this by by inhibiting the key enzyme HMG-CoA reductase, which is involved in the cholesterol synthesis pathway. But a side effect of statins leads to reduced levels of Coenzyme Q10, an important chemical required for proper muscle functioning.
A 2009 Lancet article focused on that issue and indicated that statins, like Crestor, as one cause of heart failure. (See Florkowski, S Molyneux, P George, M Lever, N-3 polyunsaturated fatty acids and statins in heart failure, Lancet 2009.)
Cardiovascular side effects from Crestor use are serious and may be life-threatening. If you or a loved one experienced cardiovascular injury or death, congestive heart failure, or immune-mediated necrotizing myopathy while taking Crestor, you may have a claim.
Crestor (generically known as Rosuvastatin), is an oral prescription drug designed to reduce the cholesterol blood levels when used together with lifestyle changes of diet and exercise. AstraZeneca, the manufacturer, designed the drug to reduce the production of cholesterol in the liver and by increasing the liver's ability to remove "bad" LDL cholesterol. Crestor has been marketed as a "super-statin" because it claims to lower LDL cholesterol more than other statin drugs.
There are currently five statin drugs on the market in addition to Crestor: Lescol (fluvastatin), Lipitor (atorvastatin), Mevacor (lovastatin), Pravachol (pravastatin) and Zocor (simvastatin). Baycol (cerivastatin), another statin drug, was removed from the market in 2001 because of serious side effects reported by patients.
Crestor History
The FDA withheld approval for Crestor following concerns to the recall of Baycol and the kidney and muscle side effects reported in Crestor drug trials that were similar to those associated with Baycol. The FDA approved Crestor in August 2003 for the 5, 10, 20, and 40 mg doses following a clinical trial involving approximately 12,000 patients. The 80 mg dosage was not approved.
In March 2004, the non-profit organization Public Citizen asked the FDA to remove Crestor from the market, stating that Crestor side effects were severe and that the drug should never have been placed on the market. Read the FDA response to the Public Citizen petition on Crestor. The FDA issued a Public Health Advisory for Crestor on June 9, 2004, warning of the "increased risk for serious muscle toxicity (myopathy) associated with Crestor use, especially at the highest approved dose of 40 mg."
In March 2005, the FDA issued an alert warning that "Rhabdomyolysis (serious muscle damage) has been reported in patients taking Crestor as well as other statin drugs. The labeling for Crestor has been revised to include information on the safe use of Crestor to reduce the risk for serious muscle toxicity, especially at the highest approved dose of 40 mg."
Zocor Side Effects and Warnings
FDA in June 2011 warned about the risk of muscle injury in patients taking the highest dose of anti-cholesterol Zocor. Now patients and plaintiffs considering a Crestor lawsuit may be considering if the FDA's Zocor warning applies to Crestor side effects. The FDA has recommended to patients and doctors that, "Zocor, Simvastatin 80 mg should not be started in new patients, including patients already taking lower doses of the drug."
SEARCH Study Results Leads to FDA Zocor Warning
The recent FDA study was based on data from the trial SEARCH (Study of the Effectiveness of Additional Reductions in Cholesterol and Homocysteine) which assessed the frequency of serious cardiovascular injuries, including heart attack and death, in patients who took the maximum Zocor dosage of 80 mg as compared to those who took only 20 mg of the drug.
Crestor Side Effects Similar to Zocor Warning
Zocor muscle injuries are similar to the Crestor side effects. The higher the dosage of a "super-statin," the greater the risk a patient runs of developing Crestor side effects such as muscle pain and weakness, and the potentially fatal rhabdomyolysis, in which muscle fiber breakdown products is released into the bloodstream and causes kidney damage or failure.

Information and commentary provided by Dallas Fort Worth Personal Injury Attorney Dr Shezad Malik. The Dr Shezad Malik Law Firm can be contacted in Dallas toll free at 214-390-3189. If you or a loved one has been injured from CRESTOR, please fill out our contact card for a free consultation.