As a Fort Worth Avandia Product Recall Attorney, I am providing this latest Avandia lawsuit information.
GlaxoSmithKline Plc has settled a lawsuit alleging its Avandia diabetes drug caused a North Carolina man to die of a heart attack, thus avoiding a jury determination over risks associated with the medicine.
The U.K.'s biggest drugmaker resolved the suit by the family of James Burford, an Avandia user who died in 2006.
The lawsuit, scheduled for trial this week in Philadelphia federal court, was the first of 2,000 heading to court alleging Glaxo hid Avandia's health risks.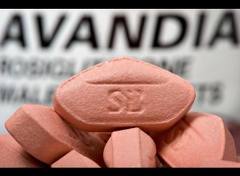 Glaxo announced Jan. 17 that it is taking a $3.5 billion charge to cover expenses linked to investigations and suits over Avandia. The reserve brings to $6.4 billion the amount the drugmaker has set aside in the past 12 months for legal costs tied to Avandia.
The latest settlement resulted from Glaxo's move to resolve all Avandia cases brought by plaintiffs' attorneys in Philadelphia of more than 1,600 cases consolidated there.
The company still faces at least 1,600 cases filed in Philadelphia and another 400 in state courts across the U.S., lawyers for Avandia users and the company said last week.
Lawyers for Burford's family alleged that Glaxo refused to take Avandia off the market, even though studies concluded it increased risks of heart attacks and strokes. They also claimed Glaxo officials withheld studies by regulators showing the increased risk tied to the drug.
The case is Deborah A. Burford v. SmithklineBeecham Corp., 07-CV-05360, U.S. District Court for the District of Pennsylvania (Philadelphia)

Information and commentary provided by Dallas Fort Worth Personal Injury Attorney Dr Shezad Malik. The Dr Shezad Malik Law Firm can be contacted in Dallas toll free at 888-210-9693. If you or a loved one has been injured from AVANDIA, please fill out our contact card for a free consultation.