Dallas, Texas victim of dog mauling and dog attack. As reported earlier, a Dallas, Texas student who was horrendously mauled and attacked by two dogs, has now returned home after an extensive hospital stay.
Jaqueline Durand, 22, was dog-sitting for a Coppell couple when she was mauled by their two pets, a German Shepherd and a pit bull. The UT Dallas student was hired as a dog sitter for three pets while their owners were out of town. Read the full story here.
Durand suffered multiple catastrophic injuries including the loss of both ears, lips, nose, and the majority of her face, the dog bites missed her carotid artery and she had multiple deep dog bites and lacerations all over her body.
Durand's life was saved by a neighbor because the front door of the owners' home had been left open. The neighbor, whose husband called 911, was also bitten by the German shepherd twice, according to court documents.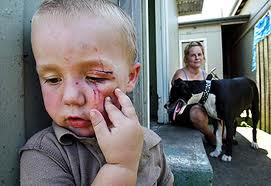 Dogs have been called man's best friend
Dogs have been called man's best friend, and have been so for at least the past 30,000 years.
Dogs have many positive effects on the lives of their owners. Dogs promote social, emotional, and cognitive development in children, influence an active lifestyle, and provide companionship. Dogs can also help to relieve stress and anxiety in people, as seen in service dogs for airplanes and other activities.
Around 38% of US households are estimated to have one or more dogs. Although dogs can be playful and loyal under normal circumstances, they can be extremely dangerous and aggressive under certain circumstances.
The wolf predator instinct is not far behind, since dogs have evolved from the wolf. Unfortunately, not all dog owners are responsible and caring, and so their dogs often go without the necessary training and proper socialization they need for safe handling.
Dogs are instinctively protective and unpredictable animals, and if they are aggressive or frightened they can be deadly.
Texas Leads the Nation in Fatal Dog Attacks
According to a Dog Bite Victims' Group, between January 1, 2005, to February 17, 2013, there were sadly 34 Texas dog bite fatalities recorded during this period; more than any other state. Pit bulls were responsible for 76% of the total recorded deaths.
Here is a shocking list of recent Texas dog fatalities released by the dog bite victims group.
Unfortunately, Texas has not taken legislative steps to reduce these deaths, and it has a 1991 statewide measure that prohibits breed-specific laws. In other words, Texas doesn't have any legislation when it comes to banning dangerous breeds.
Texas 1991 § 822.047. Local Regulation of Dangerous Dogs. "A county or municipality may place additional requirements or restrictions on dangerous dogs if the requirements or restrictions: (1) are not specific to one breed or several breeds of dogs; and (2) are more stringent than restrictions provided by this subchapter."
Legal Analysis of your Texas Dog Bite Case
Texas used to follow a one-bite rule doctrine,  allowing the dog to have one "free bite" for which the owners weren't liable. The one-bite rule was eliminated in 2007.
Currently, if any dog owner knows or suspects that their dog is aggressive, they are liable for any and all damages that occur as the result of their dog biting or attacking someone. In a dog bite or dog attack case if you are injured, you can get damages for medical expenses, lost wages, pain and suffering, and emotional distress.
In Texas, you need to prove that the bite was the result of the owner's negligence. To prove owner negligence, you have to provide proof that:
The owner knew or should have known that their dog had acted aggressively or bitten someone before,
The owner failed to control their dog prior to the bite or attack, in other words, failed to exercise ordinary care,
That you suffered damages as a result of the bite and the owner's negligence
A dog bite victim in Texas can recover damages under the legal doctrines of negligence, negligence per se (violating an animal control law), premises liability, and intentional tort. The failure to stop an attack in progress also is actionable in Texas.
To support a claim of neg­ligence per se in a dog-bite case, the dog attack victim must show the following:
That there was an animal control statute or ordinance at the time of the attack,
That the intent of the law was to protect people from a dog attack,
That the dog owner or non-owner (defendant) violated the law,
The dog attacked the victim (plaintiff),
The dog attack would not have happened but for the violation of the law, such as local dog leash laws
Severe Dog Attack Injuries? Dr. Malik Law Firm Can Help
Dr. Shezad Malik Law Firm holds accountable and aggressively prosecutes dog owners, business owners, dog spas, property owners, and people who have a duty to protect adults and children from vicious dogs in neighborhoods and especially in public parks.
Sometimes, injured folks are hesitant to make personal injury claims after suffering dog bites or dog attacks because they do not want to sue a neighbor or family member who owned the dangerous dog.
Remember that homeowners' insurance or business insurance may be available to compensate the injured victim.
Contact the law offices of Dr. Shezad Malik Law Firm at 214-390-3189 to schedule a free initial consultation after a dog bite injury or dog attack.
Read more here