Dallas schoolboy attacked by vicious dog. According to local Dallas news reports, a 6-year-old boy was hospitalized after being seriously mauled by a vicious dog earlier this week. And the police state that the dog's owner is now facing charges.
According to the police, the dog attack occurred around 3:15 p.m. in the 3400 block of Timberglen Road, Dallas.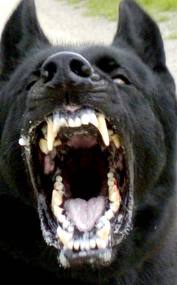 The wounded boy was leaving a school bus when the dog escaped from a local apartment and bit and attacked the 6-year-old. According to the local news, the police said the dog's owner was identified as 31-year-old Daneka Black, who "failed to secure" the animal.
The boy was transported to a local hospital with a serious injury and is currently stable.
Black was arrested and charged with an attack by a dangerous dog resulting in serious bodily injury, a felony.
Injuries inflicted on Dog bite Victims
Victims of severe vicious dog attacks often sustain serious and acute damage, which can cost $250,000 to one million dollars in specialized surgical and medical care treatment. Reconstructive and plastic surgery, such as skin grafts, tissue expansion, and scar reduction often requires many procedures over several years. Dog attack studies show that pit bulls are responsible for the majority of these damaging attacks.
Dog bite statistics
Every day about 1,000 Americans need emergency care treatment for serious dog bite injuries. Every year, over 14,000 citizens are hospitalized due to dog bite injuries. According to Insurance Information Institute, homeowners insurers paid out $854 million in liability claims related to dog bites and other dog-related injuries in 2020. The average cost per claim nationally has risen 134 percent from 2003 to 2019, because of increased medical costs as well as the size of settlements, judgments, and jury awards given to plaintiffs.
According to the CDC, approximately 4.5 million dog bites occur each year in the United States, and nearly 1 out of 5 bites become infected.
According to the American Society of Plastic Surgeons, in 2018, nearly 27,000 people underwent reconstructive surgery as a result of being bitten by dogs.
According to emergency room data, there was an 86% increase in dog bite-related hospitalization stays between 1993 and 2008 in the United States. The average cost of a dog bite-related hospital stay was $18,200, about 50% higher than the average injury-related hospital stay. There were 4 times as many dog bite-related ED visits and 3 times as many hospital stays in rural areas than in urban areas in 2008. In other words, the number of dog bites and dog attacks is increasing, costing more money and affecting rural areas more than urban ones.
Florida Dog Attack death
Earlier this week, two women were attacked by a dog in Oakland Park, Florida, one did not survive.
It happened mid-morning, as Broward Sheriff's deputies and Oakland Park Fire Rescue responded to 100+ Abandoned Dogs of Everglades Florida after a 911 call was made reporting an animal bite.
According to BSO Spokeswoman Claudinne Caro, "The two adult females are workers. One of them was working with the dog when apparently the dog suddenly snapped. The second adult female tried to aid the worker, but in the process, she herself got injured."
The woman who had been working with the dog was hospitalized where she died. The other woman suffered minor injuries. The dog was a large mixed breed, recently rescued from the Everglades and brought to the group's facility in Oakland Park.
Dallas Dog Bite Injuries & Dog Attack Attorney
Dr. Shezad Malik Law Firm, represents people in Dallas, Denton, Collin, and Tarrant Counties and across Texas for serious and catastrophic dog bite injury and mauling cases.