Every day, we are hearing a lot of bad news about the osteoporosis drug Fosamax. Made by Merck & Co., Fosamax has been a successful bone disease treatment on the market for over a decade. In January 2009, medical studies were released that hit the drug and its manufacturer hard. The first study links Fosamax to osteonecrosis, of the jaw, and the second, links Fosamax to esophageal cancer. Are these reports the Titantic that is about to hit the Fosamax iceberg?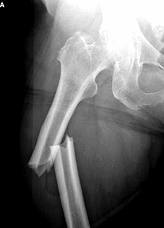 Fosamax works by attacking cells in the body responsible for bone breakdown, which can help patients dealing with osteoporosis. At the same time, if the drug is too efficient, it can cause the bone to grow too dense, which takes up inner bone space where bone marrow is found. Bone marrow is responsible for bone healing and growth, so without enough marrow, the bone will die. If you do break a bone that has been subjected to Fosamax and similar drugs it won't heal.
Medical studies linking the drug to esophageal cancer report that many of those affected had used the drug for over two years. One thing is certain – we are only seeing the tip of the iceberg when it comes to Fosamax injuries. Currently there are over 1,000 Fosamax lawsuits in litigation, and as more studies are done to confirm the allegations against the drug, we may see even more patients coming forward.
Fosamax, when used over time, can cause dead jaw, and Fosamax femur fractures have been a major problem in some cases. When you have osteoporosis, your bones become extremely fragile, and fractures can happen even with just a bump or gentle fall. Most often, fractures happen in the hips, spine, and wrists. If you break your hip, you typically need major surgery to fix it, and even then, you may have problems walking for the rest of your life. With spinal fractures, the same is true, and patients generally have back pain and may have to deal with deformities.
Fosamax and the following drugs Actonel (risedronate sodium) tablets, Actonel with Calcium (risedronate sodium with calcium carbonate tablets), Atelvia (risedronate sodium) delayed-release tablets, Boniva (ibandronate sodium) tablets, Fosamax (alendronate sodium) tablets and oral solution, Fosamax Plus D (alendronate sodium/cholecalciferol) Tablets, Reclast (zoledronic acid) Injections are now required to have clear warning labels regarding low-energy, or low trauma fractures of the femoral shaft (leg bone).
As a Fosamax osteoporosis attorney, I suggest discussing this drug with any elderly female friends and relatives as they may be unaware of the current crisis and the FDA's warnings.