Recently Shirley Boynton from California filed a product liability lawsuit against Bayer Healthcare and Johnson & Johnson's Janssen subsidiary claiming that she almost died from uncontrollable hemorrhaging after using the new anticoagulant medication Xarelto.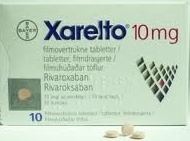 The complaint was filed in the U.S. District Court for the Eastern District of New York. Boynton alleges that she suffered permanent injuries as a result inadequate Xarelto hemorrhage warnings provided to patients and doctors.
Xarelto: Dangerous and Defective Allegations
There are several Xarelto lawsuits filed against Bayer and Johnson & Johnson, alleging that the drug is unreasonably dangerous and defective. According to the plaintiffs the drug manufacturers intentionally misled doctors about the Xarelto's risks when compared to warfarin, the older and more established blood thinner.
What is Xarelto?
Xarelto (Rivaroxaban) is a new class of anticoagulants, known as "direct thrombin inhibitors." Xarelto is a factor Xa inhibitor indicated for the prevention of deep vein thrombosis (DVT) in patients undergoing knee or hip replacement surgery, to reduce the risk of stroke in people who have abnormal heart rhythm (non-valvular atrial fibrillation) and to treat and reduce the risk of deep vein thrombosis (DVT) or pulmonary embolism (PE) by thinning the blood.
Xarelto: Blockbuster Drug
FDA approved Xarelto to prevent deep vein thrombosis in patients undergoing knee or hip replacement surgery. Xarelto was a result of a joint development by Bayer and Johnson & Johnson's Janssen subsidiary. Xarelto have achieved blockbuster status with more than $1 billion in annual sales.
Xarelto: Aggressive Direct to Consumer Marketing
Bayer and Johnson & Johnson have aggressively touted Xarelto as a superior alternative to Coumadin (warfarin), which has been the standard anticoagulation therapy for the past 60 years.
Xarelto: Bleeding Concerns
Bayer and Johnson & Johnson heavily promoted that Xarelto is easier to use than warfarin, since patients do not require regular monitoring during treatment. According to many lawsuits the Xarelto warnings fail to adequately disclose the risk of uncontrollable bleeding due to the lack of an antidote.
Warfarin, which can be quickly reversed if bleeding occurs, with Vitamin K and fresh frozen plasma. Unfortunately, Xarelto has no reversal agent to prevent the blood thinning effects of the drug, leaving doctors unable to control bleeding should that occur.
Xarelto: Push for Increased Use
Despite growing safety concerns over Xarelto, Johnson & Johnson and Bayer, said that they still plan to seek expanded FDA approvals that would allow them to market the blood thinner among a wider population of patients, including those with acute coronary syndrome (ACS).