The federal judge overseeing the Biomet M2A Magnum hip failure lawsuits has denied a motion to dismiss the lawsuits based on federal preemption. Many plaintiffs have filed product liability lawsuits over early hip failure and metallosis involving the Biomet metal hip replacement device.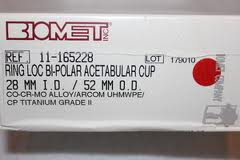 Plaintiff Biomet Injuries
The plaintiff, Leslie Caccia, had to undergo multiple revision surgeries after his Biomet ReCap Femoral Resurfacing System and M2A-Magnum metal-on-metal hip replacement system prematurely failed.
According to Biomet, the case should be dismissed because the implant was approved by the FDA. Biomet claimed that it should not be held liable for design defects, stating that federal law preempts any state law claims.
According to the judge, "The FDA approved Biomet's ReCap System under the investigational device exemption, the IDE process, for use in a specific clinical trial to determine the device's safety and effectiveness. The use of the ReCap System outside the controlled study, without proper monitoring, record-keeping, and FDA oversight, wouldn't advance the aims of the clinical trial. I'm not persuaded that a manufacturer that obtains IDE status for a device to be used in a controlled investigational setting is, during the time the study is being conducted, exempt from the liability for use of that device outside the clinical trial."
Biomet M2A-Magnum Lawsuits
Judge Miller is currently overseeing all product liability claims involving the Biomet M2A-Magnum metal-on-metal hip replacement system in the Northern District of Indiana. There has been no trials involving the Biomet M2A Magnum hip device to date.
What is the Biomet M2A Magnum Hip?
The Biomet M2A Magnum is a metal-on-metal artificial hip replacement system, which is associated with premature hip failure according to some experts. The plaintiffs allege metallosis with the Biomet hip, in which metal debris are released as the metal components grind against each other during daily activity.
587 Biomet Magnum Lawsuits and Climbing
According to the courts, there are at least 587 cases centralized and consolidated before Judge Miller. According to experts, that number is expected to increase in the coming months and years as these devices age and increasingly fail. To date there has been no recall or admission of liability by Biomet.
This early hip failure and metallosis lawsuits are not unique to Biomet, there are several federal multidistrict litigations (MDLs) involving metal-on-metal hip implants.
There are at least 7,860 DePuy ASR hip lawsuits, 4,278 DePuy Pinnacle hip lawsuits and about 46 Wright Conserve hip lawsuits pending in the federal court system. There are ongoing federal MDLs involving the Stryker Rejuvenate and ABG II hip replacement system and Zimmer Durom Cup.