Biomet Orthopedics the manufacturer of a line of metal on  metal hips, announced a global settlement late yesterday, involving the hundreds of defective hip claims.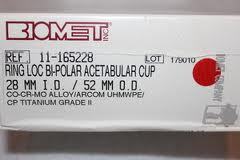 The agreement settles Biomet M2a Magnum hip lawsuits brought in the federal court system. Biomet agreed to pay $56 million to resolve lawsuits alleging that design problems with the metal-on-metal implant caused patients to undergo hip revision surgery.
1,000 Biomet Defective Hip Claims
There are about 1,000 product liability lawsuits pending against Biomet in the federal court system. The lawsuits allege that folks experienced early failure and elevated metal ion poisoning known as metallosis, with Biomet M2a 38 or Biomet M2a Magnum hip replacements. Unfortunately many patients had to undergo painful revisions and lengthy rehabilitation.
Biomet Federal MDL Settlement
The federal litigation has been centralized and coordinated in the U.S. District Court for the Northern District of Indiana as part of an MDL, or Multidistrict Litigation.
According to Judge Miller,  who is coordinating the MDL, a settlement agreement has been reached to resolve all cases where folks have required revision surgery. Biomet has agreed to pay a base amount of $200,000 to each claimant, with other clinical factors affecting the individual allocation for each case.
Biomet Settlement Inclusion Criteria
The Biomet hip settlement will apply to each case filed on or before April 15, 2014. plaintiffs who have not undergone revision surgery are excluded from the settlement. But, if those patients do get their implants removed, they may then be eligible to take part in the settlement agreement.
There at least 237 non-revision cases currently pending in the MDL, according to court documents.
What is the Problem with Biomet Magnum Hips?
The Biomet M2a Magnum is a metal-on-metal artificial hip replacement implant system, made from a cobalt-chromium alloy. According to the complaints, the design defect causes excessive amounts of cobalt and chromium to be released during the grinding of the ball and cup articular surfaces. This release of metal debris caused the Biomet M2a Hip system to fail earlier, cause problems with walking, pain, and resulted in plaintiffs having to undergo painful revision surgery to have the device removed and replaced.
Biomet Magnum Problems Noted in 2004
Biomet received hundreds of reports of failures shortly after the implant product was launched into the marketplace. Plaintiffs allege that these adverse reports should have resulted in a global Biomet Magnum recall. Biomet received a complaint in August 2004, involving a patient who required additional surgery to replace a Biomet M2a Magnum Hip that had become loose only three years after implantation. Allegedly, Biomet closed its investigation into the matter.
Other Metal on Metal Hip Lawsuits
Early failure and defective design allegations against Biomet hips are also filed against other metal-on-metal hip replacement manufacturers; the DePuy ASR, DePuy Pinnacle, Stryker Rejuvenate and ABG II, Smith and Nephew, Zimmer Durom Cup and Wright Profemur and Conserve hips.
Recently in November 2013, Johnson & Johnson, the parent of DePuy Orthopaedics, agreed to pay at least $2.5 billion in Depuy ASR settlements to resolve 8,000 cases.