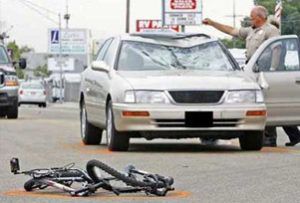 Bicycle accidents can cause serious injuries or death. These accidents typically involve complicated legal issues that require an experienced attorney. At our law firm, we handle minor and major bicycle injury lawsuits.
In many major cities, such as Dallas, motorists share street lanes with cyclists. In some cases, cyclists have their own lane. Regardless of the situation, many accidents cause severe injuries to the cyclists.
For example, recently a 13 year old boy was killed after his bike was struck by a car. The driver said he did not see the boy crossing the intersection.
Common causes of bicycle accidents include:
Distracted driver – An increase in cell phone usage while driving has led to an increase number of accidents caused by a distracted driver. This is the leading cause of bicycle accidents.

Drunk driver – When a driver is under the influence of drugs or alcohol, the driver increases his chances of hitting a cyclists.

Blind spots – Sometimes a person riding a bicycle doesn't realize they are in the driver's blind spot. Riding your bicycle in a driver's blind spot can increase the risks of being struck by the vehicle and should be avoided.

Reckless driving – Sometimes a motorists runs a stop sign, fails to yield, runs a red light, changes lanes without signaling or engages in other reckless driving that causes the accident.

Construction site – Not all bicycle accidents are caused by motorists. Sometimes a construction site is not properly closed off or marked. This could cause a cyclists to drive into a hazardous area.
Complicated legal issues can arise from a bicycle accident. If you or a loved one were injured while riding a bicycle, contact our office immediately for a free consultation. Our office handles bicycle accident injury cases from across the country.