As a Texas medical doctor and Actos Bladder Cancer Attorney I am providing this information and commentary. The maker of the world's best-selling diabetes drug is facing many lawsuits as adverse medical research shows that taking the pill for more than a year raises the risk of bladder cancer.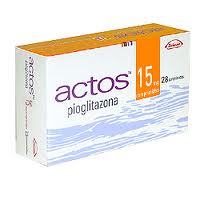 A motion was filed asking for all federal Actos bladder cancer lawsuits to be centralized before one judge for coordinated handling during pretrial proceedings as part of an MDL, or multidistrict litigation.
There are about 12 lawsuits over Actos that have been filed in federal district courts. Experts believe that hundreds of complaints that will likely be filed on behalf of individuals who claim they developed bladder cancer from side effects of Actos.
The motion was filed on August 31 by plaintiffs Glen and Nina Weant, who have petitioned the U.S. Judicial Panel on Multidistrict Litigation (JPML) to consolidate all federal Actos lawsuits in the U.S. District Court for the Southern District of Illinois before Judge Murphy. According to the filing, there are at least 12 lawsuits pending in 8 different federal district courts throughout the United States involving individuals who developed bladder cancer after Actos use.
All of the lawsuits involve similar allegations that Takeda Pharmaceuticals, the makers of Actos, failed to adequately research their medication or warn about the increased risk of bladder cancer when Actos is used for long periods of time.
Actos (pioglitazone) was approved by FDA to treat Type 2 Diabetes in July, 1999. It is a once-a-day pill that increases the body's sensitivity to insulin. FDA officials began reviewing the potential risk of Actos bladder cancer problems in September 2010, after interim data from an on-going 10 year study found that users may face an increased risk the longer they take the drug. Data from the study conducted by Takeda Pharmaceuticals, indicated that after 24 months, the rate of exposure and the increased risk of bladder cancer reached statistical significance.
In June, an Actos recall was issued in France after a review of public insurance data identified an increased incidence of bladder cancer with Actos use. The European Union's European Medicines Agency (EMA) also conducted a review and confirmed the bladder cancer risk, calling for new warnings and a six-month review of every patient on Actos.
Consolidation of the Actos litigation before one judge as part of an MDL is designed to reduce duplicative discovery, avoid contradictory rulings from different judges and to serve the convenience of the court, witnesses and parties. While the pretrial management of the cases in an MDL is often managed similar to how an Actos class action lawsuit would be handled, each claim will still remain an individual lawsuit.
During pretrial proceedings the Court will coordinate discovery and help facilitate a possible Actos settlement agreement. The U.S. Judicial Panel on Multidistrict Litigation is not likely to schedule a hearing on the petition until at least December 1, when they are scheduled to hold a hearing session in Savannah, Georgia.