As a YAZ, Yasmin, and Ocella Side Effect and Injury attorney, I want to bring to the attention of my blog readers, the latest medical information regarding these 4th generation oral contraceptive pills. According to a pair of studies published this weekend in the British Medical Journal (BMJ), the most popular birth control pills used by teenagers, Yasmin and YAZ doubles the risk of blood clots compared to a older generation birth control pill. Two new studies add to the growing evidence that birth control pills containing a newer type of progestin may put some women at higher risk for blood clots.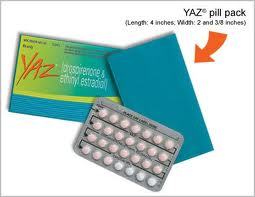 The medical report and analyses is a major warning for the heavily-marketed Yasmin and YAZ, which are popular with young adults and women with a history of menstrual disorders.
In the first study, researchers from the Boston University School of Medicine examined women ages 15 to 44 who started taking Yasmin and YAZ, which contain a contraceptive called drospirenone, instead of the much older drug levonorgestrel, which is sold under a variety of brand names. Accodrding to researchers those women who used Yasmin and YAZ were twice as likely to hospitalized with their first deep vein thrombosis or pulmonary embolisms, known as venous thromboembolism. Thromboembolism is the medical term for a blood clot in the veins, often in the legs, that gets dislodged and can cause fatal clogging in the lung arteries.
"These findings support more recent studies that suggest that drospirenone oral contraceptives are not as safe," wrote Susan Jick and Rohini Hernandez in the BMJ. Jick and Hernandez recommended that "in the absence of other consideration, [Yasmin and YAZ] should not be the first choice in oral contraception."
A second study published in the BMJ only examined UK patients and found an even higher risk; three times the chance of blood clots compared to the older drug.
German pharmaceutical giant Bayer, which manufactures Yasmin and YAZ, in a statement, said that the side effects were "an uncommon event" and noted that pregnancy would increase the deadly risks even more. Pregnancy actually puts women at higher risk for blood clots than birth control pills, a blood clot occurs in one pregnant woman for every 1,000 to 1,500 pregnant women, while one in 3,000 women who take birth control pills experience some form of blood clot, according to the National Blood Clot Alliance. This is a flawed argument, Bayer should compare non pill users wiith women taking YAZ, Yasmin.
In March 2010, Bayer put additional risk warnings on the European product label for the Yasmin pill but said at the time that the overall benefit-risk profile remained unchanged.Bayer said in its 2010 annual report that there were about 6,850 lawsuits pending in the United States with plaintiffs claiming they had suffered injuries from Bayer's Yasmin and Yaz pills or generic copies sold by Teva's Barr Laboratories.
So what does it all mean? The increased risk suggested by these studies is about two to three times those from older pills, and that any woman taking the newer medicines will get a blood clot is higher than other types of birth control. And the whole idea of medication is that the cure is less risky than the disease; here the data coupled with other research, unequivocally demonstrates that there are safer oral contraceptives than YAZ and Yasmin and that the company is putting profits over people safety. Remember physicians, the Hippocratic Oath, "first do no harm."
Read my earlier blog, questioning whether YAZ, Yasmin would be recalled.

Information and commentary provided by Dallas Fort Worth Personal Injury Attorney Dr Shezad Malik. The Dr Shezad Malik Law Firm can be contacted in Dallas toll free at 888-210-9693. If you or a loved one has been injured from YAZ, Yasmin and Ocella, please fill out our contact card for a free consultation.