As a Crestor Liver Failure, Heart Failure Side Effect Attorney, I am writing this article to warn folks of the dangers associated with Crestor.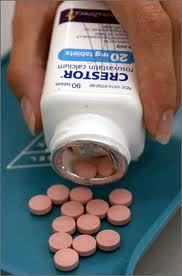 AstraZeneca, the global pharmaceutical giant and manufacturer – marketer of the popular cholesterol drug Crestor (Rosuvastatin), is being faced with the possibility of very serious and life threatening sides effects associated its cholesterol drug. Crestor (Rosuvastatin) is currently a very popular cholesterol lowering "statin" drug. Through independent medical research studies, Crestor, is shown to have significantly higher potential risks for certain serious side effects. According to documentation, the US Food and Drug Administration (FDA) appears to have not been aware of these risks when it approved Crestor for sale in the US in 2003.
Statins were initially approved by the Food and Drug Administration (FDA) for reducing high cholesterol levels in order to prevent repeated heart attacks and strokes in at-risk patients. When used for that purpose, the drugs drive down the risk of another heart attack or stroke by lowering levels of LDL (or "bad") cholesterol.
Heart Attack and Stroke – Having the most potent statin on the market is problematic because, though statins reduce the risk of heart attack or stroke by lowering the levels of fatty deposits circulating in the bloodstream, research suggests that statins dampen the inflammatory processes. This can lead deposits of plaque to break away from blood vessel walls and cause sudden blockages of arteries leading to the heart or brain, and therefore heart attacks and strokes.
One of the major side effects of Crestor (Rosuvastatin) is a life threatening disorder known as Rhabdomyolysis. Rhabdomyolysis – This is a degenerative muscle disease that has been found in patients taking Crestor. It is a considerable depletion of muscle tissue throughout the body. As the muscles atrophy, the patient experiences weight loss, loss in body mass and serious weakness. This Crestor side effect also affects the most important muscle in the body, the heart. In a research study conducted by the independent watchdog group, Public Citizen, prescription data for Crestor was compared to that of other statin drugs. This research study showed that Crestor caused rhabdomyolysis almost 22 times more than its lowest dose competitor and 3 times more than its highest dose competitor. These are significant results.
The reason for the study's outcome is that the higher the dose of the active ingredient, Rosuvastatin, the higher the risk of rhabdomyolysis. AstraZeneca, promotes Crestor as being the most powerful statin on the market. This may be true, but at what cost to a patient's health? Recent studies have shown that only 10 mg of Crestor (Rosuvastatin) has a significantly positive effect, but these positive benefits plateau and the negative side effects of rhabdomyolysis, heart failure, heart attack, stroke, liver failure, kidney failure, and potentially diabetes increase significantly at the higher prescribed and advertised dosages.

Information and commentary provided by Dallas Fort Worth Personal Injury Attorney Dr Shezad Malik. The Dr Shezad Malik Law Firm can be contacted in Dallas toll free at 888-210-9693. If you or a loved one has been injured from CRESTOR LIVER FAILURE, HEART FAILURE OR RHABDOMYOLYSIS, please fill out our contact card for a free consultation.