Victoza, one of newer diabetes drug has been associated with a number of serious side effects including Thyroid Cancer, Renal (Kidney) Failure and Pancreatitis.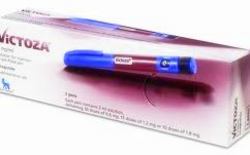 What is Victoza?
Victoza (liraglutide) is a once-daily, injectable diabetes drug used to help control blood sugar (glucose) in adults with type 2 diabetes.Victoza, made by Novo Nordisk, is an injectable diabetes medication that belongs to a class of drugs that mimic a hormone GLP-1.
Victoza is manufactured by Novo Nordisk and was approved by the FDA in January 2010. Liraglutide, works as a glucagon-like peptide-1 (GLP-1), it triggers the production of insulin when blood sugar levels rise too high.
Victoza FDA Controversy
In clinical trials, pancreatitis, or inflammation of the pancreas, occurred more with Victoza than with other diabetes drug.
The Victoza studies had indicated that the drug increased the risk of pancreatitis 3.7-fold when compared to patients receiving other medications. A review of the FDA adverse event reporting database indicates that in just its first 17 months on the market, the agency received 200 reports of pancreatitis in Victoza patients, according to Public Citizen. Public Citizen is a consumer advocacy group.
The FDA has asked Novo Nordisk to conduct a five-year study to look at Victoza's risk of pancreatitis, seriously low blood sugar levels, allergic reactions, and thyroid and other cancers.
FDA Victoza Thyroid Cancer Warning
In June 2011, the FDA issued a warning that Victoza had been linked to thyroid cancer. According to its safety alert, the FDA's Adverse Event Reporting System had received 25 claims of Victoza thyroid cancer from February 2010 to September 2011.
FDA Victoza Kidney Injury Warning
In May 2011, a warning was added to the "Warning and Precautions" section of the Victoza label regarding the drug's association with renal impairment. The warning states that renal impairment "has been reported postmarketing, usually in association with nausea, vomiting, diarrhea, or dehydration which may sometimes require hemodialysis." The label advises doctors to "use caution when initiating or escalating doses of Victoza in patients with renal impairment."
FDA Victoza Pancreatitis Warning
According to the June 2011 FDA Safety Communication, there were also at least 200 cases of acute pancreatitis and 28 cases of pancreatic cancer reported during the same period.
Public Citizen Victoza Allegations
"The FDA's frequent solution to serious safety issues identified with new drugs is reckless: The agency simply describes the risks in the drug label and hopes that physicians and patients will pay attention," Dr. Sidney Wolfe, director of Public Citizen's Health Research Group, said in a statement. "But more and more people are taking this drug, and more people are experiencing serious health problems as a result. Clearly, the FDA's warning system is not sufficient. The drug should be taken off the market."