Recently Bloomberg News reported a record $72 million Talcum Powder win. Jacqueline Fox won her case against Johnson & Johnson (J&J) over talcum powder's risk of causing ovarian cancer in women who apply the powder in their genital area.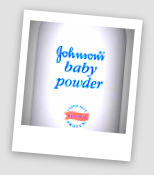 Fox died from ovarian cancer in October 2015. In February 2015, a jury in St. Louis found that talcum powder caused the ovarian cancer disease and that J&J was liable for negligence, conspiracy, and failure to warn women of the risk of using talcum Baby Powder in the genital area.
Talcum Baby Powder Lawsuits
Over 1,200 women and their families are suing J&J and Imerys (talc supplier), alleging that the companies have known of the link between talcum powder and ovarian cancer for years and failed to warn them. The next trial is set to begin on April 11 in a St. Louis circuit court.
What is Talcum Powder?
Talc, the main ingredient of talcum powder, is the earth's softest mineral, and absorbs odors and moisture. Talc is made from magnesium, silicon, and oxygen and is mined.
Medical Evidence Linking Genital Talcum Powder Usage to Cancer
In a 1971 study, British researchers analyzed 13 ovarian tumors and found talcum powder particles "deeply embedded" in 10. This was the first study to show that talcum powder could increase the risk of cancer.
In 1982 a study in the journal Cancer by Daniel Cramer, at Brigham & Women's Hospital in Boston, showed the first statistical link between genital talcum powder use and ovarian cancer.
Over the past several years, 20 epidemiological studies have found that long-term genital  talcum powder use increases the risk of ovarian cancer by about 33 percent. All of the studies have all shown a statistically significant trend toward more exposure causing more disease.
J&J Denies Any Link Between Talc and Ovarian Cancer
Like the tobacco industry cancer deniers, J&J and Imerys, claim that the statistical associations between use of the talcum powder and ovarian cancer are limited, weak, and based on unreliable data. And if there's no causation, there's no reason to add a warning to talcum Baby Powder.
Talc Increases Risk of Ovarian Cancer
The odds of a woman in the U.S. of developing ovarian cancer are 1 in 70. Talcum powder use is associated with worsening odds, 1 in 53. The risks seem to be higher for invasive serous cancer, which Fox had.
Ovarian cancer is among the most deadly cancers. Some 20,000 women are diagnosed each year, often after the disease has spread. There is no regular screening for ovarian cancer, no known causes, only risk factors. More than 14,000 women die from the disease every year.
J&J "Killer" Smoking Gun Documents
According to Fox's lawyers, documents from 1986 through 2004 show that J&J company struggled to generate interest in a consumer important product with no proven health benefits. A 1992 memo outlining "major opportunities and major obstacles" noted that "negative publicity from the health community on talcum powder (inhalation, dust, negative doctor endorsement, cancer linkage) continues."
Imerys Cover Up
Imerys, formerly called Luzenac, sells the mineral for industrial purposes. But until 2006, it denied that talcum powder could be a potential carcinogen. In the late 1990s, according to a Luzenac memo introduced at the trial, executives visited the head of epidemiology at the University of California at Irvine for advice on how "to stop the rumor about Ovarian cancer."
In 2000 scientists with the National Toxicology Program, part of the U.S. Department of Health and Human Services, voted 13-2 to list talcum powder, used in the genital area, as a possible human carcinogen, according to Fox's lawyers, but the companies persuaded the NTP to defer an official decision on the status of talc.
In 2006, International Agency for Research on Cancer (IARC), the WHO cancer agency, declared that genital use of cosmetic-grade talcum powder was possibly carcinogenic. It cited "a modest, but unusually consistent, excess in risk" and also noted that bias in the studies couldn't be ruled out.
The same year, Luzenac stopped backing studies to prove talc's safety because the "horse has already left the barn," wrote one executive, noting that cosmetic companies had also cut funding.
Luzenac also added a warning on the safety data sheet included with the 2,000-pound bags of talc it delivers to J&J: Perineal use of the talcum powder is a possible risk factor for ovarian cancer.
Next Talcum Powder Ovarian Cancer Trial Set for April 2016
Gloria Ristesund's trial is set for April. Ristesund used Baby Talcum Powder for 40 years and was diagnosed with ovarian cancer in 2011.
Tenesha Farrar, who was diagnosed with Stage 3 ovarian cancer in 2013 is also set for trial this year. Farrar, who's 40 says she'd used Baby Talcum Powder and Shower to Shower (which J&J sold to Valeant in 2012) for the last two decades.
"My grandmother and mother used it, and I learned from them," she says. After hearing about the J&J marketing document, she began crying. "I can't believe they singled us out." Farrar had chemotherapy and a full hysterectomy. She had to take off five months from her work as a clerk in a dialysis clinic outside St. Louis. She lost her health insurance because she exceeded the policy limits and had to skip her last chemo treatment.