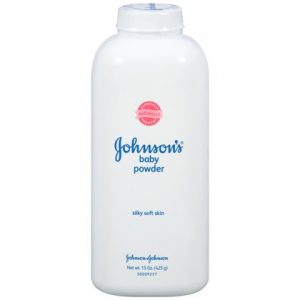 Recent lawsuits against Johnson and Johnson's Baby Powder product has brought to light evidence linking Talc, the main ingredient in Baby Powder, and ovarian cancer.
Johnson and Johnson began selling Baby Powder more than 100 years ago. Unlike pharmaceuticals, Baby Powder and other Talc products are not regulated by the Food and Drug Administration (FDA). This makes it more difficult for the government to require Johnson and Johnson to place warning labels on their Talc products. But recent lawsuits against Johnson and Johnson could result in the company adding new warning labels to Baby Powder.
These lawsuits have been fueled by mounting evidence linking Baby Powder to ovarian cancer. In 1971, British researchers were the first to discover the possibility that Talcum Powder (Baby Powder), may pose risks. They analyzed 13 ovarian tumors and found talc particles "deeply embedded" in 10 of the tumors. In 1982 Dr. Daniel Cramer, an epidemiologists at Brigham & Women's Hospital, published a study in the journal Cancershowing a statistical link between genital talc use and ovarian cancer. Since Dr. Cramer study, an additional 20 epidemiological studies have found that long term perineal talc use increases the risk of ovarian cancer by about 33 percent. The links between talc and ovarian cancer are so strong that the World Health Organization in 2006 issues a statement warning that talc may cause cancer.
During one of the lawsuits, Robert Ness, a former dean of the University of Texas School of Public Health and former president of the American Epidemiological Society, testified that the association between hormone therapy and breast cancer is statistically smaller than the association between talc and ovarian cancer, yet hormone therapy carries a warning of the potential risk.
But the medical studies linking Baby Powder to ovarian cancer are not the only astonishing piece of information brought to light by these lawsuits. An internal Johnson and Johnson memo suggests the company knew about the links between talc and ovarian cancer as far back as 1997. Johnson and Johnson hired Alfred Wehner in the 1990s to work as an outside consultant to investigate potential links between talc and ovarian cancer. In 1997, Wehner sent a memo to his a manager at the company warning that to say there is not a link would be "denying the obvious in the face of all evidence to the contrary."
The first person to sue Johnson and Johnson for not warning of the risks of Baby Powder was Deane Berg. The jury found the company negligent, although they did not award Berg any damages.
In February 2016 a Missouri jury ordered Johnson and Johnson to pay Jacqueline Fox's family $72 million in actual and punitive damages. Fox filed a lawsuit against the company after she was diagnosed with ovarian cancer three years ago. One juror said Johnson and Johnson should have done more to warn consumers.
"They could have at least put a warning label on the box but they didn't. They did nothing."
In May 2016 another jury decided against Johnson and Johnson and awarded $55 million to a women who was diagnosed with ovarian cancer after using Baby Powder for feminine hygiene for nearly 40 years.
There are several hundred other Baby Powder lawsuits pending against Johnson and Johnson. Our office is currently investigating talcum powder lawsuits from across the country. If you or a loved one suffered from ovarian cancer after using baby powder for feminine hygiene, contact our office immediately.