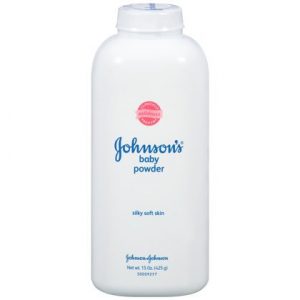 A new round of lawsuits filed in New Mexico against Johnson and Johnson's talc products adds to the growing pressure on the company to settle lawsuits alleging their products caused ovarian cancer.
15 women from New Mexico joined more than 1,100 women suing Johnson and Johnson over their baby powder product. Earlier this year a Missouri jury found the company liable and awarded a women $10 million in compensatory damages and $62 million in punitive damages."
The fifteen women from New Mexico argue that Johnson and Johnson should have warned consumers against using the talcum powder product on their genital areas. Despite numerous studies dating back forty years linking an increase risk of developing cancer and baby powder, Johnson and Johnson marketed some of their Talcum powders specifically for female genitals, according to the NM lawsuits.
Johnson and Johnson disputes these studies. On their website the company says it relied on research that showed talc did not cause ovarian cancer.
"We also know that some epidemiology studies have reported an association between talc and ovarian cancer. However, various governmental and non-governmental agencies as well as other expert panels have reviewed and analyzed all available data, and none have concluded that talc can cause cancer," according to the website.
Legal experts from across the country expect more lawsuits to be filed against the company. The attorney who filed the lawsuits in New Mexico said the women are from various socioeconomic and racial backgrounds. They also range in age between late 20s and 65 years old.
"In the (Missouri) lawsuit they discovered papers that Johnson & Johnson markets to black, Hispanic and obese women as their prime market," the attorney for the fifteen women said. "They have an increased risk of ovarian cancer as it is, but you add baby powder into the mix and it's just a bad combination."
Johnson and Johnson also lost another talcum powder lawsuit earlier this month. In that case, the plaintiff was awarded $5 million in compensatory damages and $50 million in punitive damages. Johnson and Johnson is appealing the case.
If you or a loved one suffered from ovarian cancer after using baby powder or other Johnson and Johnson talc based products, contact our office immediately. Our office handles baby powder lawsuits from across the country.