According to a recent medical study, the side effects of Lipitor and other statin drugs may increase the risk of diabetes. The Canadian study published in the British Medical Journal, demonstrated that Lipitor users are 22% more likely to be diagnosed with diabetes.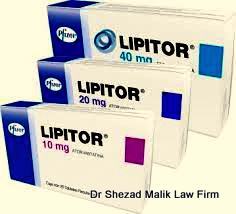 The study found that Lipitor was associated with the greatest risk of diabetes. Other cholesterol lowering drugs including Crestor, was associated with an 18% increased risk and Zocor, was associated with a 10% increased risk of diabetes.
Lipitor Diabetes Lawsuits
Recently, there has been a growing number of lawsuits filed against Pfizer (manufacturer) alleging that the company failed to warn consumers or doctors about the increased risk of diabetes from Lipitor.
What are Statins?
Statins are among the most widely prescribed medications in the U.S., to lower cholesterol by reducing blood levels of low-density lipoprotein (LDL) cholesterol, or "bad" cholesterol. Statin class of drugs includes Advicor, Altoprev, Crestor, Lovalo, Mevacor, Pravachol, Simcor, Vytorin and Zocor.
What is the Problem with Lipitor?
Lipitor (atorvastatin) is a blockbuster drug, generating an estimated $125 billion in sales for Pfizer before it became available as a generic in 2011. The medication has been promoted in direct-to-consumer advertisements on tv and magazines, encouraging patients to speak to their doctor about whether they need to be placed on Lipitor to maintain their health.
In February 2012, Pfizer updated the warning label for Lipitor warning about the potential risk of changes in blood sugar levels. According to the lawsuits, the Lipitor warnings still fails and that Pfizer withheld information about the importance of monitoring for changes in blood glucose levels while taking the medication.
Recently, a request was filed to centralize the federal Lipitor diabetes litigation for coordinated handling as part of an MDL or multi-district litigation. The U.S. Judicial Panel on Multidistrict Litigation is expected to hear oral arguments on the motion in July.