As an Actos Blader Cancer attorney and Texas medical doctor, I am providing this latest update regarding the diabetic drug, Actos.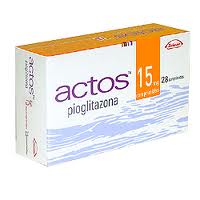 The European Medicines Agency (EMA) issued an update on the safety concerns for Actos on October 21, indicating that the drug is still a valid diabetes treatment. But, due to the Actos bladder cancer risk, it should only be used when other treatments have failed. This update is similar to the latest one issued by United States regulators.
Watch the ABC News report here.
European drug regulators indicate that they are not recommending an Actos recall, even though the diabetes drug has been linked to an increased risk of bladder cancer. Instead, doctors have been recommended to only use Actos as a second or third line treatment options for diabetics.
The statement is meant to add information to the July opinion by the EMA's Committee for Medicinal Products for Human Use (CHMP), which confirmed that the side effects of Actos include a risk of bladder cancer.
CHMP determined that while there was a risk of bladder cancer, there are still some diabetes patients for whom the risk was manageable because other drugs fail to bring their diabetes under control. The committee recommended careful screening of patients being prescribed the drug and close monitoring while they are on Actos to watch for signs of bladder cancer. The European Commission still has to agree to adopt the opinion as a decision.
Actos (pioglitazone) was introduced as a treatment option for type 2 diabetes in July, 1999. Until recently, it was Takeda Pharmaceuticals' best-selling drug, with sales of $3.4 billion last year.
In June, France required a recall of Actos after a review of public insurance data identified an increased incidence of bladder cancer with Actos use.
FDA officials began reviewing the potential risk of Actos bladder cancer problems in September 2010, after interim data from an on-going 10 year study found that users may face an increased risk the longer they take the drug.
In the United States, new Actos cancer warnings were approved by the FDA in August 2011, indicating that patients who use the drug for more than a year may face an increased risk of bladder cancer.
A growing number of individuals throughout the U.S. are filing an Actos bladder cancer lawsuit against Takeda, alleging that the drug maker failed to provide adequate warnings for consumers or the medical community. Many of the complaints indicate that Takeda should have removed Actos from the market, arguing that the risk of bladder cancer outweighs the minimal benefits.
Some expert estimates suggest that more than 1,000 cases may ultimately be included as part of the Actos litigation. A panel of judges is scheduled to meet on December 1 to decide whether all federal Actos lawsuits should be consolidated as part of an MDL, or multidistrict litigation.