Medical data from a new FDA funded study indicates that the NuvaRing birth control may cause women to face a 56% higher risk of blood clots than those who take older birth control pills.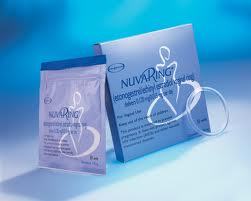 NuvaRing is a female birth control device consisting of a medicated flexible ring. NuvaRing releases a combination of etonogestrel and ethinyl estradiol through a ring that is inserted into the vagina once a month. The drugs are a combination of ethinyl estradiol and etonogestrel, which is known as a "third generation" progestin.
NuvaRing is a form of birth control that releases a combination of etonogestrel and ethinyl estradiol through a ring that is inserted into the vagina once a month.
Recently, the FDA released data from a birth control study that reviewed a range of female birth control products and compared them to older drugs to determine the risk of blood clots. Newer progestin-based birth control were found to carry a much higher risk of blood clots, or venous thromboembolic events (VTE), than older drugs like levonorgestrel.
Medical researchers looked at medical data on about 800,000 women from 2001 to 2007, and found that women who used NuvaRing were 56% more likely to suffer a VTE than their levonorgestrel-using counterparts. VTE includes deep vein thrombosis (blood clots in the legs) and pulmonary embolisms (blood clots in the lungs). Women were also at higher risk of arterial thrombotic events (ATE), which can include heart attacks and strokes.
FDA researchers suggested that use of the NuvaRing led to higher sustained exposure to estrogen, which could be the reason the VTE risk is higher. The same study found that drospirenone-based drugs like Yaz and Yasmin increased blood clot risk by 75%.
This data provides further scientific support for claims brought by hundreds of women throughout the United States, who have filed a NuvaRing lawsuit against the manufacturer, Organon and Merck, after suffering serious and fatal injuries from a blood clot. The complaints allege that the manufacturers failed to properly research the birth control ring or warn about the risk of health problems from NuvaRing.
Organon, a subsidiary of Merck, failed to conduct adequate studies that would have revealed the risk of blood clots from Nuvaring before it was introduced into the U.S. market, according to allegations by the plaintiffs. They claim that physicians would have never prescribed the Nuvaring had the true risks of blood clots and pulmonary embolism been properly communicated by the manufacturers.
MANUFACTURERS: Organon Pharmaceuticals USA Inc., Organon USA Inc., Organon International Inc., Schering Plough Corp., and Akzo Nobel NV.
All NuvaRing federal lawsuits have been consolidated for pretrial proceedings as part of an MDL, or multidistrict litigation, before Judge Rodney Sippel in the U.S. District Court for the Eastern District of Missouri. The first NuvaRing bellwether trials are expected to begin in 2012. The complaints all involve similar allegations that women suffered blood clots as a result of NuvaRing side effects, leading to injuries like a stroke, heart attack, pulmonary embolism, deep vein thrombosis (DVT) or sudden death. The claims argue that the drug makers failed to adequately research the birth control ring or warn about the potential increased risk of these serious problems.
The bellwether process is common in complex litigation involving a number of claims that raise similar allegations. By selecting a small group of cases for an early trial, the parties are able to get an idea how a jury is likely to respond to evidence and testimony that may be similar to what would be presented in other cases. The outcome of these trials often shapes the litigation and may ultimately lead to an agreement to settle NuvaRing birth control lawsuits by the drug maker.
To read more and visit my website, please click here.