According to the findings of a new medical study, presented at the North American Spine Society, Medtronic's Infuse bone graft product maybe linked to an increased risk of cancer.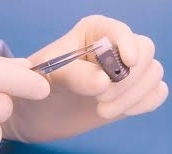 There is growing concerns over a potential risk of cancer from Medtronic Infuse, which contains rhBMP-2, a bioengineered bone growth protein. Research indicates that a higher-dose formulation of Infuse, known as Amplify, has been linked to a significantly higher number of cancers than were found among those who received a traditional bone graft.
The data had been given to the Food and Drug Administration by Medtronic when it sought approval to market a high-strength version of an existing bone growth product Infuse. Based on those study findings, the F.D.A. rejected that higher-dose formulation, known as Amplify, citing concern about cancer risks.
Patients implanted with rhBMP-2 were 2.5 times more likely to develop cancer within the next year than those who were not implanted with the Amplify product. That risk increased fivefold after three years. Types of cancer linked to Medtronic Infuse bone growth could include breast cancer, pancreatic cancer and prostate cancer.
While researchers indicate that Infuse is probably not a carcinogen itself, if it is linked to a higher cancer risk, it is probably as a cancer promoter.
The study, was headed by Dr. Eugene Carragee, editor-in-chief of the Spine Journal and a professor at Stanford University School of Medicine. Carragee authored a report in June that found that 10% to 50% of Infuse recipients experienced complications during the clinical trials, including cancer, pain, infections and sterility. Those problems were not mentioned in studies published by researchers with financial ties to Medtronic.
According to Dr. Carragee, doctors often administered Infuse off-label at levels significantly above the recommended dosages, ones that approach or exceed the amount of rhBMP-2 found in a dose of Amplify. "This information requires careful consideration because of the large number of patients receiving high doses" of Infuse, adding that he was particularly concerned about its use in certain patients like smokers or those with genetic factors that put them at higher risk for cancer.
Medtronic Infuse is used to encourage bone growth and replace spinal disks by filling the gaps between vertebrae. It was approved by the FDA in 2002.
Besides fears of sterility and cancer, Medtronic Infuse side effects are also suspected of including serious and life-threatening complications caused by airway compression when used "off-label" in the cervical spine.
A number of patients have had to receive respiratory support tracheotomies, insertion of feeding tubes, and additional surgery after experiencing problems with Medtronic Infuse after a cervical spine surgery.
This has often been caused by swelling of the neck and led to an FDA warning to healthcare providers in July 2008 that highlighted at least 38 reports of cervical spine fusion problems with Infuse. Most of these Medtronic Infuse problems occurred within 2 to 14 days after surgery.