As a Fentanyl Patch overdose and Wrongful Death attorney, I have written extensively about the inherent dangers of the Fentanyl Patch. Later in July, the Judicial Panel on Multidistrict Litigation (JPML) will review the application to consolidate and centralize all fentanyl pain patches product liability lawsuits.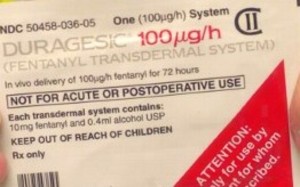 The application to consolidate is based on, at last count, the 26 federal fentanyl patch lawsuits filed against Watson Pharmaceuticals, a generic fentanyl pain patch drug maker.
What is Fentanyl?
Fentanyl is a narcotic painkiller that is about 100 times more powerful than morphine. The patch is applied to the skin like a band aid, and is supposed to deliver the medication in a controlled and regulated manner.
Types of Fentanyl Pain Patches
Johnson & Johnson (and some of its subsidiaries) make the Duragesic fentanyl pain patch. Johnson & Johnson also makes patches for Sandoz. The Sandoz patches are generic versions of Duragesic, but are made in the same factory on the same machines as Duragesic. Duragesic patches use the "reservoir design" in which the patch holds a reservoir of fentanyl gel.
Mylan Pharmaceuticals manufacturers generic fentanyl patches, using a "matrix design" in which the fentanyl is in the patch adhesive.
Watson Pharmaceuticals manufactures a "reservoir design" fentanyl patch.
Actavis manufactures a "reservoir design" fentanyl patch.
Why Fentanyl Overdose?
Since the painkiller is very potent and highly toxic, the fentanyl gel can come into direct contact with the skin, and can cause a fentanyl overdose, resulting in serious injury and death.
FDA Adverse Reports
The skin patch was approved by FDA in 1990 for use in patients with persistent, moderate-to-severe pain who have become opioid tolerant – meaning that they have been using another strong opioid narcotic pain medicine around-the-clock, and have been using the medicine regularly for a week or longer. The skin patch is most commonly prescribed for patients with cancer. Read about the FDA warnings here.
The FDA has received hundreds of adverse event reports involving fentanyl overdoses and deaths associated with the use of pain patches.
The problem with Watson Patches
The plaintiffs allege that the side effects and injuries including death could have been avoided through the use of a matrix design to hold the fentanyl in the patch. The complaints allege that Watson knew about the safer alternative design, but instead continued to use a cheaper method involving a reservoir design, which was susceptible to leakage.
Benefits of MDL Consolidation
MDL consolidation is common in complex pharmaceutical and medical device product liability claims, where many lawsuits are being filed involving common facts and injuries. Centralizing the cases reduces duplicative discovery, prevents contradictory pre-trial rulings from different courts and benefits the parties, the witnesses and the courts.
Watson would like Mylan and Alza/Sandoz, which manufacture other generic versions of the patch to be joined in the proposed MDL.
Read more about Fentanyl patches here and visit my blog for further information.