Federal regulators at the Food and Drug Administration (FDA) have issued a warning about the combination of blood pressure medication Aliskiren (Tekturna) with ACE inhibitors and angiotensin receptor blockers (ARBS) in diabetics or kidney patients.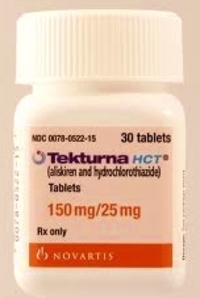 Novartis, the maker of Aliskiren, announced that the TekturnaR labels have been updated in the US, following the FDA's review of the preliminary findings from the ALTITUDE study.
Altitude Study
The ALTITUDE study, found an increased risk of adverse events in patients who were taking the direct renin inhibitor as an add-on to other anti-hypertensive medications such as ARBs and ACE inhibitors.
The FDA said that diabetic patients who mix the drugs are at risk of renal impairment, hypotension, and hyperkalemia.
Novartis, has decided to cease marketing in the US of ValturnaR (aliskiren and valsartan, USP), a single pill combination of aliskiren and the ARB valsartan. Valturna will no longer be marketed after July 2012.
Medications that contain aliskiren include:
Amturnide (aliskiren hemifumarate, amlodipine besylate, and hydrochlorothiazide)
Tekturna (aliskiren hemifumarate)
Tekturna HCT (aliskiren hemifumarate and hydrochlorothiazide)
Tekamlo (aliskiren hemifumarate and amlodipine besylate)
Valturna (aliskiren hemifumarate and valsartan).
FDA Medwatch
Healthcare professionals and patients are encouraged to report adverse events or side effects related to the use of these products to the FDA's MedWatch Safety Information and Adverse Event Reporting Program:
Complete and submit the report Online: www.fda.gov/MedWatch/report.htm
Download form or call 1-800-332-1088 to request a reporting form, then complete and return to the address on the pre-addressed form, or submit by fax to 1-800-FDA-0178
Read the MedWatch safety alert, including a link to the FDA Drug Safety Communication, at:
http://www.fda.gov/Safety/MedWatch/SafetyInformation/SafetyAlertsforHumanMedicalProducts/ucm301120.htm