U.S. Food and Drug Administration (FDA) issued a warning Monday about an increased risk of blood clots in women taking newer forms of birth control pills, such as Yaz or Yasmin.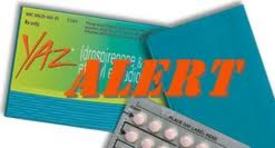 The FDA did say it "remains concerned" about a potentially higher risk of blood clots in women taking the "fourth generation" pills containing drospirenone, a new type of synthetic progestin. These new pills, marketed as Yaz, Ocella or Yasmin, among other brand names, are very popular.
Venous thrombosis embolism (VTE) are clots that originate in the legs and can travel to the lungs, causing a medical condition known as pulmonary embolism. Symptoms include leg pain, chest pain or sudden shortness of breath.
Preliminary results of an FDA-funded study show a 50 percent increased risk of VTEs in women taking drospirenone-containing pills versus other hormonal contraceptives.
According to the FDA, the risk to any one woman remains small: the risk of a VTE is about six women per 10,000 users for the older contraceptives versus 10 per 10,000 using the newer versions.
The agency also reviewed six other studies on the subject, the results of which were conflicting. Two studies found no difference in risk, while another two found a 1.5-fold to 2-fold increased risk. And two more studies, appearing earlier this year in the BMJ, found double to triple the risk. The FDA issued a similar safety communication at the end of May, after the two BMJ studies came out.
Risk factors for VTE include smoking, being overweight or a family history of blood clots. The FDA statement released Monday noted that studies to date have only looked at pills containing drospirenone and a higher dose of estrogen, not those containing drospirenone and a lower dose of estrogen. FDA advisory committees are scheduled to investigate further into the matter at a December meeting, at which time the full findings of the agency-funded study will be released.
Data Summary
FDA has reviewed six published epidemiologic studies that evaluated the risk of blood clots (venous thromboembolism, VTE) in women using birth control pills containing drospirenone. These studies have conflicting findings. Two were postmarketing studies required by the FDA or European regulatory agencies.1,2 These studies did not report any difference in VTE risk between drospirenone-containing products and products containing levonorgestrel or other progestins. Two publications from 2009, however, reported a 1.5- to 2-fold higher VTE risk in women who use drospirenone-containing contraceptives as compared to the risk in women who use levonorgestrel-containing contraceptives.3,4 More recently, two articles published in 2011 in the British Medical Journal reported a 2- to 3-fold greater risk of blood clots in women using oral contraceptives containing drospirenone rather than levonorgestrel.5,6 As with all epidemiologic studies, there are methodological issues that make interpretation of these conflicting results complex. FDA has not reached a conclusion on the risk for blood clots in women using drospirenone-containing birth control pills, but remains concerned about the potential increased risk.
Initial data from an FDA-funded epidemiologic study exploring the association of blood clots with several different hormonal contraceptive products, including levonorgestrel-containing contraceptives, appear consistent with results from the 2009 and 2011 published studies. Although FDA's review is ongoing, the preliminary data from the FDA-funded study are consistent with an approximately 1.5-fold increase in the risk of blood clots for users of drospirenone-containing contraceptives compared to users of other hormonal contraceptives. To put this risk into perspective, if the risk of developing a blood clot among women using other hormonal contraceptives is about 6 women in 10 thousand, then the risk of developing a blood clot among women using drospirenone-containing oral contraceptives would be about 10 women in 10 thousand. The full study report of this study, along with the completed FDA review of the results of the study, will be presented and discussed at the joint meeting of the Reproductive Health Drugs Advisory Committee and the Drug Safety and Risk Management Advisory Committee in December 2011.
FDA notes that the available studies have only examined the risk of VTE in users of contraceptive pills that contain drospirenone and 0.03 mg of ethinyl estradiol (an estrogen) and not other pills that contain drospirenone combined with a lower dose of estrogen (e.g., 0.02 mg ethinyl estradiol). It is unknown at this time whether the reported VTE risk applies to all drospirenone-containing products.
Table 1. Approved Oral Contraceptives containing Drospirenone
Brand name
Generic name
Drospirenone and ethinyl estradiol
Drospirenone 3 mg and ethinyl estradiol 0.03 mg
Ocella
Drospirenone 3 mg and ethinyl estradiol 0.03 mg
Safyral
Drospirenone 3 mg, ethinyl estradiol 0.03 mg, and levomefolate calcium 0.451 mg
Syeda
Drospirenone 3 mg and ethinyl estradiol 0.03 mg
Yasmin
Drospirenone 3 mg and ethinyl estradiol 0.03 mg
Zarah
Drospirenone 3 mg and ethinyl estradiol 0.03 mg
Beyaz
Drospirenone 3 mg, ethinyl estradiol 0.02 mg and levomefolate calcium 0.451 mg
Drospirenone and ethinyl estradiol
Drospirenone 3 mg and ethinyl estradiol 0.02 mg
Gianvi
Drospirenone 3 mg and ethinyl estradiol 0.02 mg
Loryna
Drospirenone 3 mg and ethinyl estradiol 0.02 mg
Yaz
Drospirenone 3 mg and ethinyl estradiol 0.02 mg