DePuy Orthopaedics and its parent, Johnson and Johnson, are facing more than 6,000 personal injury and defective metal on metal hip product claims in U.S. District Court, Northern District of Ohio. These lawsuits involve its metal on metal ASR hip replacement devices.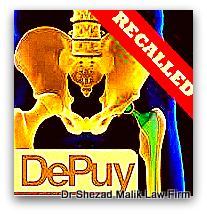 DePuy ASR Federal and State 2013 Trials
The first trial date in 2013 over the recalled DePuy ASR artificial metal on metal hip devices is scheduled to begin this week in Maryland state court, with a second trial expected to begin later in January in California state court. The first trial in the federal DePuy ASR hip litigation will begin on May 6, 2013 with a second trial set for July 8, 2013. (In re: DePuy Orthopaedics, Inc. ASR Hip Implant Products Liability Litigation – MDL 2197).
DePuy ASR Recall
The DePuy ASR hip recall was issued in August 2010, after the devices were found to have an unacceptably high failure rate.
FDA Investigation
The U.S. Food & Drug Administration (FDA) is currently reviewing the safety of metal-on-metal hip implants like the DePuy ASR, DePuy Pinnacle, Smith and Nephew metal hips, Stryker Rejuvenate and Biomet m2a Magnum metal hips.
Many medical experts are concerned that the metal particles released by these devices can cause an adverse local tissue reaction in the hip area surrounding the implant and can lead to heavy metal poisoning with cobalt and chromium. This is known as metallosis. These metal particles are released by the grinding action of the metal on metal components, the ball and cup.
DePuy Pinnacle MDL Lawsuits in Dallas, Texas
DePuy is involved in a second multidistrict litigation in U.S. District Court, Northern District of Texas, Dallas division involving a metal-on-metal version of its Pinnacle Hip Replacement System.
According to court documents, the first trial in the DePuy Pinnacle litigation is scheduled for September 2014. (In re: DePuy Orthopaedics, Inc. Pinnacle Hip Implant Products Liability Litigation – MDL No. 2244).
DePuy ASR Settlements
To date only 3 DePuy ASR lawsuits have been settled for a confidential amount, but widely touted as being $200,000 per case. Since many folks have been implanted with the DePuy ASR metal on metal hip and may be now experiencing problems with the replacement, it is not too late to seek legal advice or to file a lawsuit.
Read more here and visit my website for further information.