Abbott Laboratories is being sued by children who were born with birth defects, after their pregnant mothers took the epilepsy drug Depakote.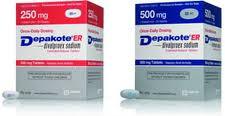 The Depakote lawsuit was filed on May 3 in St. Clair County Circuit Court in Illinois by plaintiffs from across the country. The complaint alleges that Abbott Laboratories failed to fully research the side effects of the antiepileptic drug and failed to adequately warn about the risk of spina bifida and other birth defects from Depakote.
Depakote was approved in the United States in 1978 for treatment of certain forms of epilepsy. Depakote pregnancy side effects have been linked to an increased risk of severe birth defects when taken during the first trimester.
According to allegations, Abbott knew about the potential risk of Depakote birth defects on or before the date it began marketing the drug in the United States, and failed to adequately warn women or the medical community about the true nature and extent of the risk.
In 1995, a study reported an incidence rate of neural tube defects from Depakote, that was ten times greater than with other anti-epileptic drugs. Other research has found that more than one out of every ten infants exposed to Depakote during the first few weeks of pregnancy may develop major congenital abnormalities.
The families allege that Abbott attempted to minimize the risk of Depakote birth defects and disregarded the danger on the product labeling. The drug maker has also allegedly worked to expand the drug's use through "off-label" promotions for depression, bi-polar disorder and treatment of migraines.
In 2006, the FDA added a "black box" warning about the potential risk of Depakote birth defects after a study found that 20% of pregnant mothers who gave birth while on Depakote had a child with malformations or a birth defect. Birth defects associated with Depakote include spina bifida, cleft palate, abnormal skull development, malformed limbs, holes in the heart and urinary tract problems.
In May 2010, medical researchers found that Depakote injuries to infants could occur after using the drug as early as the first trimester, which means that by the time many women discover they are pregnant, it could be too late to get off the drug and avoid birth defects for their unborn child.

Information and commentary provided by Dallas Fort Worth Personal Injury Attorney Dr Shezad Malik. The Dr Shezad Malik Law Firm can be contacted in Dallas toll free at 888-210-9693. If you or a loved one has been injured from DEPAKOTE BIRTH DEFECTS, please fill out our contact card for a free consultation.