As a Dallas Slip and Fall Attorney, I would like provide a quick explanation and an update of Texas Slip and Fall law.
A slip and fall accident is a type of personal injury claim that occurs when a person slips and falls on another person's property. It is based on the breach of duty that the owner of the property was negligent in failing to correct the dangerous condition that caused the slip and fall.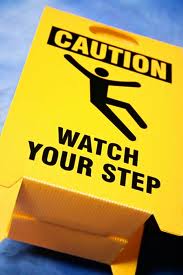 If you were in a public place or a private residence in Texas and hurt yourself due to a slip and fall, you may file a slip and fall lawsuit. But if the accident was your fault, or there is some other intervening circumstance that does not satisfy the slip and fall lawsuit requirement, you can expect that it would get dismissed.
You have to prove negligence on the part of the company or private citizen at whose Texas property the slip and fall injury took place. A classic example would be a wet floor. We are all familiar with businesses that mop their floors and put out bright yellow or orange caution signs and/or cones to warn people that the area is wet and not to cross it. If these signs are clearly posted and you cross into the slippery area anyway, the business has a good chance of not being liable for the fall.
The term Premises Liability is used when assigning responsibility for injuries caused by the defective design or maintenance of property, including private homes, public buildings, and anywhere a person would have a reasonable expectation of safety.
"Negligence" means failure to use ordinary care to provide a safe place and to reduce or eliminate an unreasonable risk of harm created by the condition or use of a place, equipment or procedures.
Property owners have a duty to keep their property safe. To hold the property owner responsible, one of the following three conditions must apply to the incident:
1. The owner of the property, or one of their employees, caused the worn or torn spot, the spill or the dangerous surface that resulted in the slip and fall.
2. The property owner knew about the dangerous condition but didn't do anything about it.
3. The owner of the property should have known about the dangerous condition because a reasonable person tending to a piece of property would have detected the problem and taken steps to correct it.

Information and commentary provided by Dallas Slip and Fall Personal Injury Attorney Dr Shezad Malik. The Dr Shezad Malik Law Firm can be contacted in Dallas toll free at 214-390-3189. If you or a loved one has been injured from a slip and fall accident, please fill out our contact card for a free consultation.