As an Actos Bladder Cancer attorney I have written extensively of the alleged injuries of bladder cancer with the use of the newer diabetic drug, Actos. A Virginia man has filed lawsuit alleging that he took Actos and developed bladder cancer. The suit was filed in the U.S. District Court for the Western District of Louisiana on June 14th (Case No. 6:12-cv-1704). The case is one of many pending in the Actos multidistrict litigation (MDL No. 6:11-md-2299).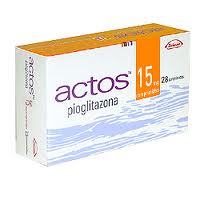 What is Actos?
Actos is a type 2 diabetes medication that has been on the US market since 1999. It is manufactured by Takeda Pharmaceuticals. Actos is one of Takeda's top-selling drugs with global sales of $4.8 billion last year; in 2008, Actos was the 10th best -selling medication in the United States.
Actos Bladder Cancer Allegations
According to the complaint, the Plaintiff took Actos for treatment of his diabetes from 2006 to 2011 and he developed bladder cancer. The lawsuit alleges that the Defendants knew that using Actos for an extended period of time would expose patients to an increased risk of bladder cancer, but did not notify its users. As a result of the Defendants' alleged negligence, the Plaintiff now suffers from a life threatening if not fatal disease.
FDA Warnings Takeda Pharmaceuticals
The lawsuit alleges further that the Defendants have yet to alert their users to the increased risk of bladder cancer associated with using the medication for one year.
Last June, the U.S. Food and Drug Administration (FDA) warned about this link in a Safety Announcement and subsequently updated Actos' safety information.
Based on data from a 10 year ongoing study by Kaiser Permanente, the agency said that patients taking Actos for one year were 40 percent more likely to develop bladder cancer compared to those who have never taken the medication and noted that the risk increased with both duration and dosage.
Actos Withdrawn in Europe
Actos was pulled from the market in France and Germany last June; medical data from the French Medicines Agency indicated an increased risk of bladder cancer in male patients who took the drug for at least a year.
New Warning Label in Canada
In April, Health Canada modified the warning label on Actos to include the possible increased risk of bladder cancer with continual exposure. Late last month, a Canadian study published in the British Medical Journal found a two-fold increased risk of bladder cancer in patients who took the drug for at least two years.
Read more drug and medical device product liability cases here.