As an Accutane Inflammatory Bowel Side Effect attorney, I have written extensively about the risks of Crohn's Disease and Ulcerative Colitis associated with the use of Accutane. Now according to a New Jersey jury, an Accutane trial in New Jersey state court has resulted in a verdict of $18 million.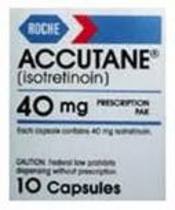 Accutane, is an acne medication developed and manufactured by Roche. Roche Holding AG (ROG) must pay a total of $18 million in personal injury and product liability damages to two users of its Accutane acne drug who blamed the medicine for their inflammatory bowel disease.
Jurors found that Roche failed to properly warn Kathleen Rossitto and Riley Wilkinson that Accutane could cause inflammatory bowel disease.
Scope of Accutane Problems
According to experts, about 16 million people have taken Accutane, since it went on the market in 1982. Roche, withdrew its brand-name version of Accutane off the market in 2009 after juries awarded significant damages over bowel-disease claims.
European Medicines Agency Adverse Report
The verdicts come about a week after European regulators said Roche systematically failed to evaluate reports of safety issues involving its products to determine whether they should be passed on to health authorities.
The regulators found about 80,000 reports involving medicines marketed in the U.S. that hadn't been evaluated to determine whether they should be given to the EU as suspected adverse reactions.
Roche Accutane Lawsuit Cases
Roche has now lost 9 of the 13 suits brought by Accutane users that have gone to trial since April 2007. Roche and manufacturers of generic versions of the drug, currently face nearly 8,000 Accutane lawsuits in New Jersey state court, where the litigation is centralized as part of a mass tort.
All of the lawsuits involve personal injury claims that users of the Accutane medication developed severe inflammatory bowel disease (IBD), ulcerative colitis and Crohn's disease.
The case is Kathleen Rossitto v. Hoffmann-La Roche Inc., ATL-l-7481-10-MT, New Jersey Superior Court, Atlantic County (Atlantic City).