Recently earlier this month, seventeen plaintiffs filed an Actos bladder cancer lawsuit against manufacturer Takeda Pharmaceuticals, blaming that the use of the type 2 diabetes treatment led to the diagnosis of bladder cancer.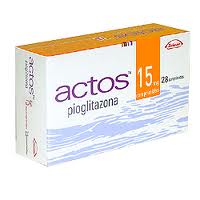 Four of the plaintiffs had died from advanced bladder cancer. The other plaintiffs have experienced recurrences of their cancer, leading to complications and ongoing painful cancer treatments.
Plaintiffs Serious and Catastrophic Injuries From Actos
Recently in a trial that took place earlier in February, the jury found for the plaintiff who developed bladder cancer as a result of Actos use. Kristufek, 74, of Slippery Rock, Pennsylvania, was forced to have his bladder removed as a result of the cancer diagnosis.
Plaintiffs blame Takeda researchers for ignoring concerns about Actos drug's cancer-causing risk before it went on sale in the U.S. and misled the FDA about the medicine's safety.
8,000 Actos Bladder Cancer Lawsuits Cannot Be Wrong
More than 3,500 Actos suits have been consolidated before a federal judge in Louisiana for pretrial information exchanges, in a multidistrict litigation or MDL. According to court documents, Takeda is exposed to another 4,500 claims in state courts in Illinois, West Virginia and Pennsylvania.
Actos Verdicts
Kristufek, is the ninth Actos patient to take bladder-cancer claims before a jury, and the fifth case to score a victory against the Asian pharmaceutical giant. The company folks in Osaka, Japan will have to give serious thought to stop the hemorrhaging of money in the defense of these indefensible bladder cancer cases and go for a global settlement.
In 2013, California and Maryland juries ordered Takeda to pay a combined $8.2 million in damages over the handling of the drug.
Those verdicts were thrown out by judges and are on appeal. The company also won defense verdicts in two cases in state court in Nevada.
In October 2014, a Philadelphia jury awarded more than $2 million in damages to a retired accountant who blamed her bladder cancer on Actos.
A federal jury in Lafayette, Louisiana, last year awarded a massive $9 billion in damages against Takeda and Eli Lilly & Co. That record breaking verdict was reduced to $36.8 million. The case is on appeal.
The Pennsylvania case is Kristufek v. Takeda Pharmaceuticals America Inc., Philadelphia Court of Common Pleas. The consolidated Actos case in Louisiana is In Re Actos (Pioglitazone) Products Liability Litigation, 11-md-02299, U.S. District Court, Western District of Louisiana (Lafayette).
What is Actos?
Actos was approved by the FDA in 1999 for the treatment of type 2 diabetes, and millions of patients have used this drug. In 2011, the FDA issued an Actos safety communication, stating use of the drug for one year or longer could increase a person's risk for bladder cancer. This announcement was linked to the European Medicines Agency warning that Actos sales had been prohibited in both France and Germany due to concerns about bladder cancer risk.
Despite these warnings, Actos manufacturer Takeda has not recalled the drug or issued a stronger  warning of the bladder cancer risk to patients and medical doctors.
Bladder Cancer Information

Bladder cancer is the sixth most common type of cancer in the U.S., according to the American Urological Association. The cancer is very treatable in the early stages, but the prognosis worsens in the metastatic stage, after the cancer has advanced and spreads to distant organs and lymph nodes.
This type of cancer has a high recurrence rate, and when it does recur, it is often more serious than the original diagnosis. Treatment for bladder cancer typically involves surgery, chemotherapy, radiation or a combination of these methods.