New Jersey state court lawsuits over Accutane and generic versions have been consolidated as a mass tort in Atlantic County before Judge Carol Higbee, and the number of complaints filed in the state has more than doubled over the last year.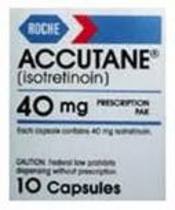 There are now more than 7,000 Accutane lawsuits pending in New Jersey state court. These complaints allege that the makers of the acne medication failed to adequately warn about the risk of serious and debilitating bowel problems.
All of the complaints involve similar allegations that the acne drug had inadequate warnings and that side effects of Accutane may increase risk of severe inflammatory bowel disease (IBD), including Crohn's disease and ulcerative colitis.
The drug maker Roche, discontinued Accutane in June 2009, due to the increasing costs associated with the litigation over Accutane, but a number of generic versions remain available under names such as Claravis, Sotret, Amnesteem and generic isotretinoin.
Several Accutane trials have already occurred in New Jersey state court, with a number of multi-million dollar verdicts being returned for damages caused by Accutane.