The FDA is "evaluating" new adverse-event reports for 20 drugs, the agency announced in September. A 2007 federal law requires the FDA to disclose all its investigations into reports of possibly drug-related adverse events.
The reports on the list come from the FDA's early-warning system for drugs already on the market. This Adverse Event Reporting System (AERS) collects reports from patients, hospitals, doctors, and drug companies about suspicious problems that might be related to a medication.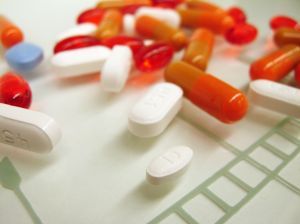 The FDA said that if a drug is listed, it means that the agency has begun an analysis to see if there is a safety problem that requires further evaluation. When that evaluation is done, the FDA will either issue further warnings or an all-clear.
The following are on the list of drugs and the "adverse events" — side effects — as reported to the AERS database:
1. Arginine Hydrochloride Injection (R-Gene 10) Pediatric overdose due to labeling / packaging confusion.
2. Desflurane (Suprane) Cardiac arrest (heart stops working).
3. Duloxetine (Cymbalta) Urinary retention.
4. Etravirine (Intelence) Hemarthrosis (blood in a joint).
5. Fluorouracil Cream (Carac) and Ketoconazole Cream (Kuric) Adverse events due to name confusion.
6. Heparin Anaphylactic-type (life-threatening allergic) reactions.
7. Icodextrin (Extraneal) Hypoglycemia (low blood sugar).
8. Insulin U-500 (Humulin R) Dosing confusion.
9. Ivermectin (Stromectol) and Warfarin Drug interaction.
10. Lapatinib (Tykerb) Hepatotoxicity (liver toxicity).
11. Lenalidomide (Revlimid) Stevens-Johnson syndrome (a drug reaction).
12. Natalizumab (Tysabri) Skin melanomas (skin cancer).
13. Nitroglycerin (Nitrostat) Overdose due to labeling confusion.
14. Octreotide Acetate Depot (Sandostatin LAR) Ileus (bowels not moving).
15. Oxycodone Hydrochloride Controlled-Release (OxyContin) Drug misuse, abuse, and overdose.
16. Perflutren Lipid Microsphere (Definity) Cardiopulmonary reactions (lung/heart problems).
17. Phenytoin Injection (Dilantin) Purple glove syndrome (discoloration, pain, and swelling of the hand that may lead to amputation).
18. Quetiapine (Seroquel) Overdose due to sample pack labeling confusion.
19. Tebivudine (Tyzeka) Peripheral neuropathy (tingling or numbness in the extremities).
20. Tumor Necrosis Factor (TNF) Blockers Cancers in children and young adults.
Medical Analysis: Sometimes side effects of drug appear when they are mass marketed. And sometimes the only way the side effects are apparent is when a data base is kept.