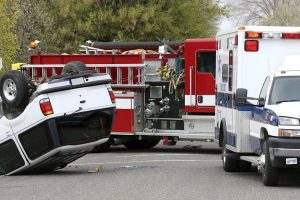 Whenever you're involved in a car accident, it is important you hire an experience attorney to represent your rights. Insurance companies are in the business of trying to minimize their pay-outs, which is why a competent attorney is crucial.
What to do immediately after an accident can sometimes be confusion. You might be asking yourself if you should contact your insurance provider to let them know you were involved in an accident. The answer is you shouldn't call them. Why? The reason you don't want to contact your insurance company is because they do not necessarily represent your best interest. As I mentioned above, they are more interested in minimizing their pay-outs.
The rule also applies to deciding when to contact the other person's insurance company. Whether it was the other person's fault or you are not sure, it is important that you do not contact the insurance company.
So when should you contact the insurance company? The answer is never. It is always best to let your attorney contact the insurance company for you. The reason for this is because an attorney represents your best interests, and not the insurance company's interest.
But if you've already contacted the insurance company, do not worry. Just make sure you inform your attorney.
The legal and medical issues involved in a car accident can be very complicated, which is why an experienced attorney should be hired immediately. For example, some people have a preexisting medical condition that is made worse in a car accident.
In these situations insurance companies tend to argue that the car accident did not contribute to the preexisting medical condition and so your pain, suffering, and damages linked to your preexisting condition should not be considered in an injury lawsuit. However, at our law firm we know this is not always the case. In fact, we recently settled a case for the policy limits, $100k, after our client's back problems were made worse during an accident.
Because of the potentially high medical costs associated with car accidents, it important to make sure you carry the proper insurance coverage. In most states the minimum insurance coverage is liability. But in order to make sure your medical expenses are fully covered, you should carry "Personal Injury Protection" and "Underinsured" coverage.
Both Personal Injury Protection (PIP) and Underinsured coverage are designed to assist you when you have high medical bills resulting from an accident. PIP covers medical expenses and, in some cases, lost wages and other damages. Underinsured coverage protects you when you're involved in an accident with an at-fault driver whose liability limits are too low to cover the damage or medical expenses.
If you or a loved one was injured in an accident, contact our office immediately. Our law firm handles car accident lawsuits from across the country.