The family of a Tennessee woman who died, has filed a wrongful death lawsuit over Pradaxa against Boehringer Ingelheim, alleging that the drug maker failed to adequately warn about the risks associated with the blood thinner.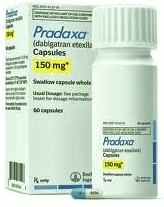 The lawsuit was brought this week by Bertha Bivens, the daughter of Nancy Brummett, in the U.S. District Court for the Eastern District of Tennessee.
According to allegations in the lawsuit, Brummett was prescribed the new blood thinner in January 2011, for long-term treatment of atrial fibrillation. Atrial fibrillation is a very common cardiac arrhythmia.
Two months after Pradaxa was prescribed, Brummett was hospitalized with a massive gastrointestinal bleed from Pradaxa. Brummett died less than three months after she first used the drug.
Pradaxa (dabigatran) is an anticoagulant, introduced by Boehringer Ingelheim in October 2010 as a superior alternative to Coumadin (warfarin) for prevention of strokes among individuals with atrial fibrillations.
It is the first of a new type of blood thinners known as direct thrombin inhibitors, which also includes Johnson & Johnson's Xarelto.
There have been a massive number of reports of bleeding events and hemorrhages among users of Pradaxa, including hundreds of deaths.
The Pradaxa wrongful death lawsuit alleges that Boehringer Ingelheim created a defective product that is no safer than older blood thinners, and lacks a reversal agent.
Coumadin (warfarin) is the blood thinner Pradaxa is meant to replace, but bleeding events with that drug can be treated with a dose of Vitamin K or an infusion of fresh frozen plasma.
According to the complaint, Boehringer Ingelheim should have placed a warning on Pradaxa that the drug lacks a quick way to fix bleeding events.
Furthermore, the label warning fail to adequately alert doctors and patients about the Pradaxa gastrointestinal bleed risk, and the company also failed to provide any guidance on how to deal with bleeding events when they arise, the lawsuit claims.
According to the complaint, the drug is defective and recommends that Boehringer Ingelheim should have issued a Pradaxa recall.
As of November 2011, Boehring Ingelheim reported there were 260 confirmed Pradaxa deaths, mostly due to bleeding problems, with 120 of those deaths reported in the U.S.
The drug had only been out in the U.S. for a little more than a year, and had been available worldwide since only 2008. The FDA, European and Canadian health officials, as well as the drug company itself, have all launched investigations into Pradaxa safety risks.
The complaint is believed to be the first Pradaxa lawsuit filed in the United States.