Boehringer Ingelheim, the maker of Pradaxa have been cited by the Prescripton Medicines Code of Practice Authority (PMCPA), a British regulatory agency, for the information on the Pradaxa's website.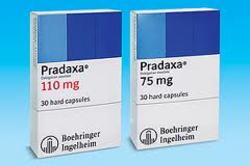 The British regulatory agency has cited Boehringer Ingelheim's Pradaxa website for violating industry codes of conduct. It also charged the company over issues related to a press release.
The allegations were brought by a general practitioner, who began investigating after seeing a press release from the company that described the blood thinner warfarin as "rat poison" and referred to Pradaxa as a "wonder drug."
The article also failed to properly warn about the bleeding side effects of Pradaxa.
An investigation into the Pradaxa website led to the PMCPA's ruling that the site violated the Association of the British Pharmaceutical Industry's (ABPI) code of practice.
The website was supposed to be for medical professionals only, but complaints claimed that the site instead targeted public promotion of the drug.
The company and its Pradaxa drug are under intense scrutiny from regulators in the United States, Europe and Canada. These regulatory agencies have all launched investigations into Pradaxa health risks after a number of post-marketing reports involving severe bleeding events and deaths.
Pradaxa (dabigatran) is a new blood thinner, which was introduced by Boehringer Ingelheim in the United States in October 2010, as a superior alternative to Coumadin (warfarin) for prevention of strokes among individuals with atrial fibrillation. But, there have been a mind boggling number of reports involving hemorrhages among users of the medication, including hundreds of deaths from Pradaxa.
With blood thinner Coumadin, known generically as warfarin, bleeding events can be treated by giving the patient a dose of Vitamin K. Pradaxa has been promoted as a superior medication because it requires less monitoring, but internal bleeding problems can not be reversed since there is no antidote.
According to a report released by the Institute for Safe Medication Practices in January 2012, more instances of Pradaxa hemorrhages were reported to the FDA's Adverse Event Reporting System during the first quarter of 2011 than were reported in association with any other drug monitored by the group. At least 505 instances involving Pradaxa bleeding events were reported, compared to 176 cases reported with warfarin/Coumadin, which was second on the list.
There is a growing number of Pradaxa lawsuits against Boehringer Ingelheim, alleging that the drug maker failed to adequately research their medication or warn about the risk of serious and potentially life-threatening gastrointestinal bleeds or hemorrhages.