California – A bus driver with a history of motor vehicle offenses and substance abuse was arrested on suspicion of driving under the influence earlier in the week, hours after his casino-bound charter bus ran into a ditch. Eight people were killed and 30 people were injured.
Officials said the bus had an invalid license plate, and they were unsure whether the driver had proper permits to operate the vehicle. The bus ran off the road while taking passengers to a northern California casino.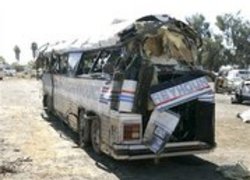 AP Photo: A rear view of the charter bus that overturned.

The 52-year-old bus driver had been cited for speeding and other violations that resulted in loss of his license for nearly two years. He recently regained his driving privileges.
The driver was arrested as he lay injured in his hospital bed. His mother said he had drug and alcohol problems, was jailed several times on drug charges and had smashed a car carrying a friend into a tree a few years ago.
The crash came on the driver's first day behind the wheel of the bus after several training trips watching the owner drive.
The bus carrying the driver and 42 passengers, was heading to the Colusa Casino Resort. Apparently it drifted off a rural two-lane road before the driver "overcorrected" and swerved back. The bus ejected some passengers as it rolled and crushed others.
Legal Analysis: Driver probably high as a kite and the passengers rolled the dice with him on the way to the casino.