Oil and natural gas pipeline explosions can lead to serious injury or death. This is why it is important to hire an experienced attorney to handle your injury claim.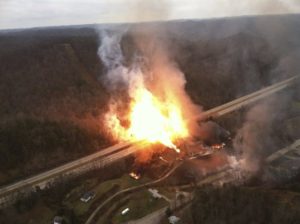 In 2015 there was a sudden rise of pipeline accidents across the country and with it a rise in injuries and deaths, according to the U.S. Pipeline and Hazardous Materials Safety Administration. 324 pipeline accidents occurred in 2015 causing 50 serious injuries and 9 deaths.
Recently, a 26 year-old man was badly burned in a natural gas pipeline explosion. The man was in his home when a 30-inch interstate natural gas pipeline exploded. His house was completely destroyed by the blast and a dozen other homes were evacuated. Three of those homes were so badly damaged they were deemed unlivable.
As a result of an increase in pipeline accidents, the federal government announced last month it is proposing new safety regulations.
"The significant growth in the nation's production, usage and commercialization of natural gas is placing unprecedented demands on the nation's pipeline system," said U.S. Transportation Secretary Anthony Foxx said in a statement. "This proposal includes a number of commonsense measures that will better ensure the safety of communities living alongside pipeline infrastructure and protect our environment."
The new safety regulations come as the number of accidents involving unmarked natural gas pipeline increase. For example, in 2014 a man driving a backhoe struck an unmarked, unmapped, and unregulated rural pipeline. The man sustained serious injuries and died months later after complications. As an example of just how unregulated and unsafe rural pipelines are, neither the state nor the federal government have an agency that possesses the authority to issue any violations or fines to the company who owned this unmarked pipeline.
This lack of government oversight leaves a person injured in a natural gas explosion in an even more complicated position. This is why it crucial to hire an experience attorney to represent your rights and interest. If you or a loved one has been injured in a natural gas pipeline explosion, don't hesitate to contact our office. Our law firm handles pipeline explosion injuries throughout the country.