Medical side effect concerns about Tekturna, a blood pressure drug sold by Novartis, have arisen after clinical trials were canceled due to a high number of strokes and kidney problems among diabetic patients.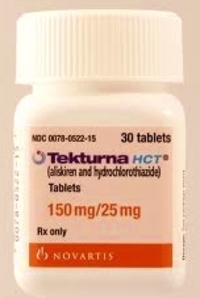 Novartis was running a trial of the drug to see if it could be useful in the treatment of diabetic hypertension. The drug maker found that Tekturna may increase the risk of non-fatal strokes, kidney problems and other health risks.
Read the Safety Warning from Novartis here. Direct Healthcare Professional Communication on potential risks of cardiovascular and renal adverse events in patients with type 2 diabetes and renal impairment and/or cardiovascular disease treated with aliskiren (Tekturna®) tablets and aliskiren-containing combination products.
As a result of the findings, a safety review of the potential Takturna problems was launched in December in Canada, where the medication is sold under the brand name Resilez.
The cancellation of the clinical trials was announced in a December 20 press release by Novartis. The trial, known as ALTITUDE, involved 8,609 patients from 36 countries. It was a randomized, double-blind, placebo-controlled study of the drug's use in patients with diabetes and kidney problems.
The study found an increase in Tekturna side effects after 18-24 months that included not only strokes and kidney complications, but also caused hypotension (low blood pressure) and hyperkalemia (high potassium), both of which can cause circulatory problems.
The clinical trial involved the use of Tekturna along with angiontensin-converting enzyme (ACE) inhibitors or angiotensin receptor blockers (ARBs). As a result of the bad side effects, Novartis says it will cease promoting the use of Tekturna in combination with those drugs in any patients.
ALTITUDE was cancelled after an independent Data Monitoring Committee (DMC) overseeing the clinical trial became alarmed at the high rate of Tekturna health risks among tests subjects and recommended Novartis pull the plug.
The company has not yet released data from the study, but has told all of the clinical trial's investigators to remove Tekturna products from their patients' treatment regimen.
Tekturna (aliskiren) was approved in 2007 for the treatment of high blood pressure. In several countries outside the United States, it is sold under the brand name Rasilez.
In a recent statement released by the Canadian regulatory agency, Health Canada, noted that 329 of the test subjects were from Canada and the agency has expressed concerns over the risks of the clinical trial to its citizens.
Canadian officials say they are looking at available safety data and is considering taking appropriate regulatory action if necessary. The actions could include new label warnings and safety recommendations.
Read more here on Mass Tort Pharmaceutical Litigation and visit our website for more information