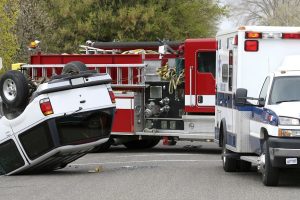 Local Doctor Killed in a Hit and Run while Biking in Galveston. Local doctor, Dr. Nancy Lefeber Hughes was struck and killed while biking in Galveston in the early morning on March 18th by a young couple. The driver, Logan Llewellyn, 21, was apprehended two days later with an arrest warrant at his residence in an RV park in Seguin, outside of San Antonio. The young woman in the passenger seat at the time of the crash, Cianna Mims, 18, was also charged for failing to report the accident.
Hit and Run-Driver Didn't Stop
Dr. Hughes died at the scene of the crime and is estimated to have been hit between 6 AM and 6.30 AM by Llewellyn as the couple drove to see the sunrise by the Seawall. After hitting the doctor, the two fled the scene without even stopping to see what had happened. Two bystanders came across the injured doctor and called emergency services for help, but she died before aid could arrive.
When the police arrived at his residence and questioned Llewellyn as to whether he knew the reason for his arrest, he stated that he hit "something" and only later realized that it was a person.
Teenage Passenger's Parents Led to Her and Boyfriend's Arrest
The police were able to locate the two in the car due to information that was provided by Cianna Mims' parents, Delve and Teri Mims. The parents stated that when their daughter and her boyfriend arrived back from Galveston in her 2015 silver Mercedes, there was significant damage to the vehicle that had not been there the previous night before they had left.
Cianna, according to her mother's statement, had claimed that she was asleep when Llewellyn hit a deer, but Teri noticed that there was no hair or blood on the car which would be consistent with that accident. The car had a broken windshield, front bumper and headlight damage, and damage along the body of the driver's side.
Teri Mims provided pictures of the car before and after the damage to the police. When the authorities arrived to arrest Llewellyn, the car's windshield had already been replaced but the car had traces of the bike's paint on it.
Driver Arrested, Passenger Charged and out on Bail
Llewellyn was arrested on March 20 and is now being held in Guadalupe County Jail on bail of $200,000. He is charged with an Accident Involving Injury or Death and is awaiting extradition.
Mims was arrested and taken to Galveston County Hail on Friday, March 25 but has since been released on a bond of $7,500. She is charged with failure to report a felony.
The well-liked local doctor is missed in Galveston
Dr. Hughes was a second-generation doctor well-known in the Galveston area. She practiced internal medicine and specialized in osteoporosis.
"She was an unbelievable light in the dark sky at night," says friend and patient Sissy Howell. "I've known her forever; she's treated my Parkinson's and other problems I had. I can't imagine life without her around."
Hit and Run, Texas, what happened?
A hit and run accident occurs when a driver hits another car, a person, an animal, or property and fails to provide their insurance information or give aid before leaving the scene of the accident.
In Texas, this is a serious criminal charge that can range from a misdemeanor to a felony.
Texas Driver's Responsibilities
Under the Texas Transportation Code, a driver must stop and take action after an accident that results in property damage or injury to another driver. In order to avoid the criminal charge of leaving the scene of an accident, a driver must do the following:
With an accident involving injury or death, the driver must return to the scene of the accident, give aid, provide personal information, and show their driver's license if requested.
If the driver decides to run without giving aid, the outcome could be a third-degree felony conviction, punishable by jail time. If the victim's injuries were not serious, the result could be a felony conviction with jail time and fines.
In an accident that involves damage to an occupied vehicle, the driver must stop, give aid, provide personal information, and show their driver's license if requested.
Running away without giving aid to an occupied vehicle is a Class C misdemeanor. If the total damage to all vehicles is less than $200, the punishment could be a Class B misdemeanor with up to 6 months in county jail. This same punishment applies to hitting an unoccupied vehicle or damaging fixtures/landscaping and failing to report.
In an accident involving damage to an unoccupied vehicle, the driver must stop, locate the driver if able, provide their contact information, or leave a note in a conspicuous area with personal information and details regarding the accident.
In an accident that involves damage to fixtures or highway landscaping, the driver would need to take "reasonable steps" to find a person of authority and report the damage along with contact information. If the estimated damage is worth more than $1,000, the driver would need to file a report with law enforcement.
Failure to comply with any of these requirements could result in arrest.
Cyclists and Pedestrian Fatalities on the Rise in Texas
In 2020 nearly 800 fatalities occurred involving pedestrians or cyclists. This trend is on the rise as are fatal car accidents in general both state and nationwide. From 2019 to 2020 the fatality rates for total crashes and for cyclists and pedestrians both rose roughly 7%. In 2020 alone, there were over 3,500 fatal crashes and nearly 4,000 killed in the state of Texas.
Injured by a car accident? Contact Us Today
Traffic-related injuries and fatalities are unfortunately common in our country. If you or a loved one have been injured in a car or truck accident it can be difficult to know what to do next, but if you've suffered because of another's irresponsible driving, you should retain a lawyer to help recover your damages. Contact Dr. Shezad Malik Law Firm to receive a free consultation from an experienced attorney. There are no upfront costs: the cost of representation will only apply in the case of recovery, or winning your case.
If you found this article informative, feel free to let us know by leaving us a like and sharing on social media. 
Read more here
Richardson, Texas Driver Arrested For Drunk Driving Following Deadly Crash