Recently a South Carolina woman filed a product liability lawsuit against Pfizer, claiming that the cholesterol drug Lipitor side effect caused her to develop diabetes. The federal lawsuit was filed by Margaret Clark in the U.S. District Court for the District of South Carolina. Clark alleges that Pfizer has failed to adequately warn about the diabetes risk from Lipitor. Pfizer updated the label in 2012 at the request of the FDA.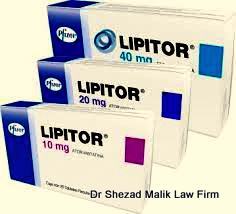 Clark was prescribed the cholesterol drug in 2002 to help reduce her risk of heart disease. Clark indicates that she had a body mass index of 22.7, which is considered a normal weight. Clark alleges that she took Lipitor to help maintain her healthy and active lifestyle, but instead the drug allegedly caused her type 2 diabetes in February 2012.
Many women are filing Lipitor lawsuits after developing diabetes. The plaintiff complaints allege that Pfizer failed to adequately warn consumers or doctors about the risks and side effects with Lipitor and the importance of closely monitoring blood glucose levels.
What is Lipitor?
Lipitor (also known as atorvastatin calcium) is an HMG-CoA reductase inhibitor and member of the class of drugs known as statins. It is prescribed to reduce the amount of cholesterol and other fatty substances in the blood. In December 1996, Parke-Davis Pharmaceutical Research, a division of Warner-Lambert Company, obtained FDA approval to market Lipitor.
Warner-Lambert and Pfizer Inc. entered into a co-marketing agreement and the companies began distributing and selling Lipitor throughout the U.S.in 1997. In June 2000, Pfizer acquired Warner-Lambert and all rights to Lipitor.
In August 2011, FDA's Division of Metabolism and Endocrinology Products requested Pfizer make labeling changes for Lipitor. In February 2012, Pfizer complied with the FDA request and added language to the Warnings and Precautions section of the Lipitor label which stated: "Increases in HbA1c and fasting serum glucose levels have been reported with HMG-CoA reductase inhibitors, including Lipitor." But there is no warning of diabetes, the drug label had never warned patients or physicians of any potential relationship between changes in blood sugar levels and the use of the drug.
Lipitor is a Blockbuster Drug
The cholesterol medications are one of the best-selling drugs in the United States, with more than $14.5 billion in combined sales in 2008. Lipitor is one of the most commonly used brand-name medications, generating an estimated $125 billion in sales for Pfizer before it became available as a generic in 2011.
The medication is heavily promoted in direct-to-consumer advertisement, encouraging patients to speak to their doctor about whether they need to be placed on Lipitor to maintain their health.
Lipitor Diabetes Side Effect Risk
According to Clark's lawsuit, Pfizer knew or should have known that there was a risk of diabetes with Lipitor before it was placed on the market in 1997. "Despite the February 2012 label change, Lipitor's label continues to fail to warn consumers of the serious risk of developing type 2 diabetes per se when using Lipitor."
Clark alleges, "that the Pfizer manufactured, marketed, distributed, supplied, promoted and/or sold Lipitor, which is defective and unreasonably dangerous in that it causes diabetes; that Pfizer knew or should have known of the risk of diabetes injuries associated with the product; that Pfizer marketed, distributed and/or sold the product without adequate warnings concerning its risks; and that as a direct and proximate result of use of the product the plaintiff suffered serious injury, physical and mental pain and suffering, as well as economic loss."
Pfizer Lipitor Multidistrict Litigation
In April, a request was filed to centralize the Lipitor diabetes litigation before one judge for coordinated handling as part of an MDL or multi-district litigation. Consolidation will promote the just and efficient conduct of these actions by preventing duplicative discovery and preventing inconsistent resolution of pretrial issues.
Also the convenience of the parties and witnesses supports transfer and pretrial consolidation. Because of the common defendant, virtually identical issues of law and fact, and the number of current and anticipated claims, transfer and consolidation is most convenient for the parties and potential witness common to these actions.
The U.S. Judicial Panel on Multidistrict Litigation is expected to hear the motion in July. If a Lipitor MDL is established, Clark's lawsuit will be transferred into the consolidated pretrial proceedings.